The following article has been machine translated, and may not be completely accurate. If you'd like to view the original interview in Japanese, click here.
The 'Evangelion' anime series, which began broadcasting in 1995 and has become a cultural phenomenon, will finally come to an end with the release of 'Evangelion: 3.0+1.0 Thrice Upon a Time' in June of 2020. Prior to the release of the film, khara Inc., the video planning and production company for the Evangelion series, held an event called 'Operation 0706' on July 6, 2019, connecting Paris, France, and five cities in Japan to screen the first 10 minutes and 40 seconds of 'Evangelion: 3.0+1.0 Thrice Upon a Time'. Gehirn, who was responsible for this operation, may remind you of the predecessor of NERV, the special operations agency in 'Neon Genesis Evangelion', but that is not the case. Gehirn is a company that provides I.T. security services, infrastructure and distributes weather and disaster prevention information.
Summarize the entire series, and promote it in a way that has never been done before
In 'Operation 0706', the first part of the new film to be released next year was broadcast live from France via LINE LIVE. Rather than just showing the footage, the event was coordinated with Japan Expo, a Japanese cultural exposition held every year in France, in order to fulfill Director Hideaki Anno's order to "launch the film in France", the event was broadcasted in real time along with the stage performance of Yoko Takahashi, who is also the official supporting ambassador. The preparations were carried out at a rapid pace.

For starters, in a normal theatrical production, there is a certain amount of established routine of "preparing such and such promotional materials and launching such and such promotion at this timing..." However, 'Evangelion' is the exact opposite. Ms. Rie Shimasue, producer in charge of music liaison and of overseas development strategy at khara Inc., said, "Evangelion doesn't typically follow the usual methods of promotion, but has a strange groove that moves rapidly toward realization once an idea is established. It's always like a surprise attack and never just waltzes in through the front door," she said, explaining its angel-like nature.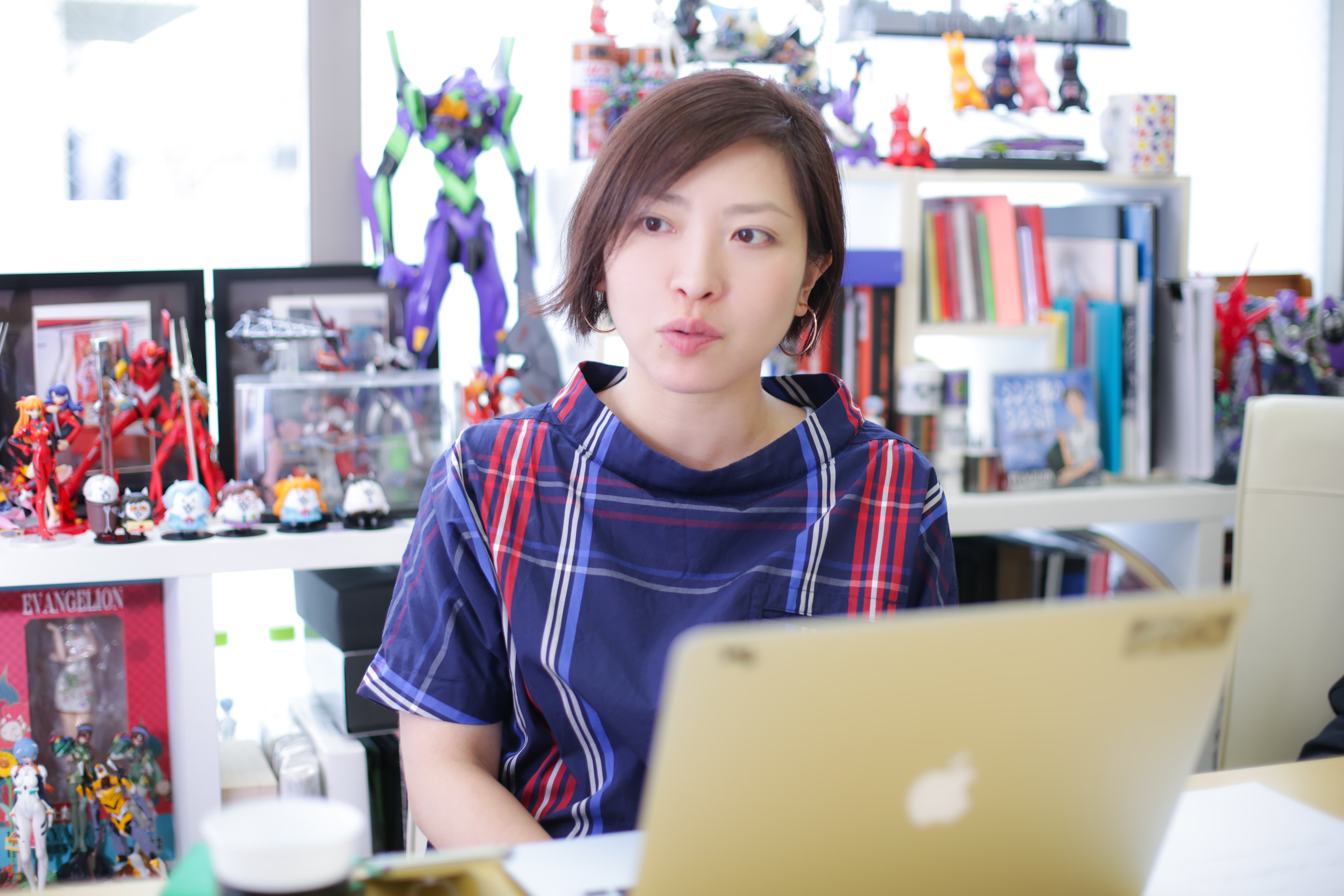 Rie Shimasue, Producer, Music Liaison, Overseas Development Strategy, khara Inc.
Moreover, it's been more than 20 years since the first TV series aired, and seven years since the release of 'Evangelion: 3.0 You Can (Not) Redo'. "With the series finally coming to a close, we knew we had to come up with a different way to liven things up.", said Ms. Shimasue.

What I was particularly conscious of was our relationship with the internet. "In 2012, when '3.0' was released, Twitter had barely become commonplace, but since then, the connection between the internet and the real world has become stronger and stronger, so we thought about how we could increase the effectiveness of our advertising.", said Shimasue. In addition to the promotion of '3.0+1.0', 'Operation 0706' was also meant to sum up the entire series, so we thought of a different approach and implemented it.
"So... how do you deliver the video?" - The connection between our Twitter accounts led to a formal request
In the process of searching for the content of 'Operation 0706' and the form of delivery, we realized that there were various technical issues that needed to be taken into consideration, in addition to arranging the venue, planning security, and negotiating with the authorities, when it came time to carry out the real-time broadcast.

"The internet connection in France is usually no more than ADSL, so it's not possible to distribute large amounts of video safely. We had to figure out how to transmit video from Japan in such an environment, so we asked LINE LIVE to help us out, but we didn't know what to expect, starting with how to prepare a video server.", said Ms Shimasue.

The name of Gehirn's CEO, Daiki Ishimori, came up. Ishimori's connection with khara was triggered by the Great East Japan Earthquake that occurred in March 2011. Ishimori had been using his Twitter account, 'NERV', to distribute information on disasters and support for disaster victims, and to call for rolling blackouts in a way that was inspired by 'Operation Yakushima' from the Evangelion series. Initially, it was an 'unofficial' activity, but since it was a socially significant activity, Groundworks, the company that manages the copyrights related to 'Evangelion', granted permission to use the trademark and it has been continuously distributing news, weather, and disaster information, which now has about 760,000 followers.

As Shimasue and her team watched over the series of activities, they came to understand the personality of the man behind 'NERV'. "In the beginning, some users scolded us for allowing the use of elements from anime to disseminate information about an earthquake. We contacted them in light of this situation, but when we looked at the activities of the NERV account, we realized that they were not evil in any way and were doing something good for the world. We talked on the phone only a couple of times, but I think we found the seeds of our relationship there," said Shimasue.

In April 2019, Ishimori was asked about a technical problem at a meeting of all the people involved in the project, "I want to do something like this with Operation 0706, can you manage it?" Ishimori may have been under pressure not to run away, but he replied, "Yeah, I'll help you," and the project began chaotically.
Support not only for infrastructure but also for video encoding and security
When Ms. Shimasue first asked for advice, "Can't you do something about the servers and communications?" Ishimori thought, "If it's about infrastructure, I'll just refer him to Sakura Internet (our parent company) and that will be enough." However, the more he listened to her, including the linkage with EVA-EXTRA, the official application released in conjunction with Operation 0706, the more he realized that this would not be enough.

"We talked about the video delivery format, conversion, database and CDN, and even the security of the application. I thought, 'This is not something that one app development company can do by itself,' so I said, 'I'll do it.'"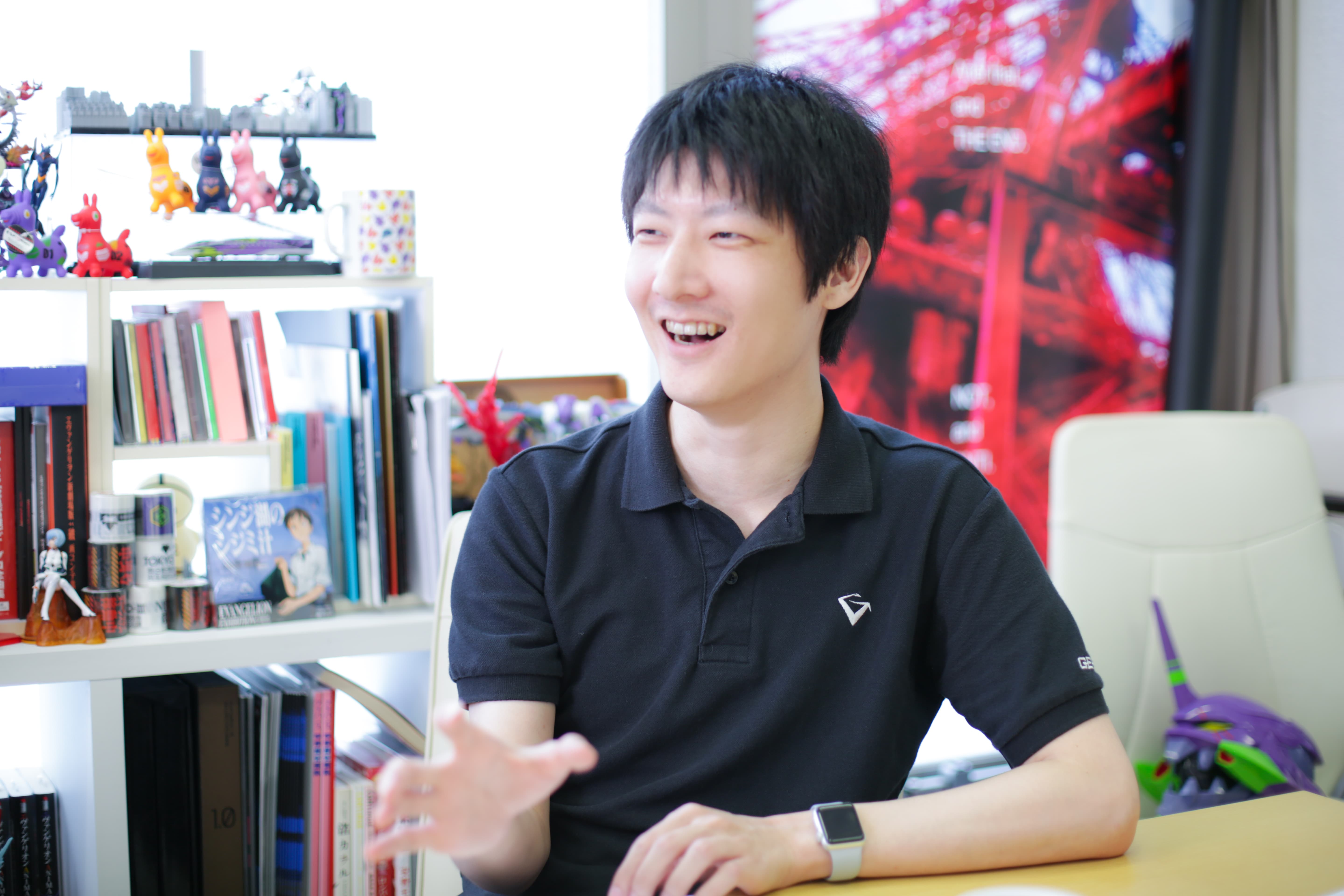 Daiki Ishimori, CEO of Gehirn Inc.
In this day and age, video distribution on the internet is commonplace, not to mention the existence of YouTubers, and it seems like anyone can do it if they want to. However, with the Evangelion series being such an obsessive content, it was not so easy.

"The video that we received from khara came uncompressed. A 15-minute section is about 20 GB in size, which in comparison to 'Rebuild of Evangelion', which was distributed for a limited time after 'Operation 0706', was about 140 GB, making it equivalent to the size of a whole movie. If we were to distribute it over a mobile connection, the bandwidth would be capped in no time...", said Ishimori.

We had to convert them to a HLS format for app distribution, but Ishimori said "since the data was entrusted to us by the official creators of the film, we encoded it with a focus on image quality. However, H.264 is not good at compressing red, as shown by the artifacts at the end of 'Evangelion: 2.0 You Can (Not) Advance', where the main character Shinji Ikari is shown, covered by a red gradient overlay, so we worked hard to adjust the parameters so that the noise would not appear."

Ms Shimasue said, "Normally when we grant permission to general distribution sites, there is no picture quality check, we just hand over the files and leave the rest to them, but Mr. Ishimori took such great care that I wanted to say 'It's a free distribution so it's ok if the picture quality is a little rough', but I think we were able to provide a much better picture quality compared to the ones we've licensed in the past thanks to Mr Ishimori's dedication."
The "Weather Camera" relayed images of fans who were far away from each other
Another thing that Gehirn cooperated on was the live broadcasting of each venue using the 'weather camera'. Gehirn's weather cameras were installed at each of the special venues, and the 'EVA-EXTRA' app provided a real-time, hand-held view of the visitors.

"One day, when I went to Gehirn for a meeting, they showed me around the office, and I saw for the first time a management screen that combined images from various weather cameras installed nationwide. I thought, 'I wonder if we could install this at the venue sites across Japan where Operation 0706 will be held, so that we can view it from the app. Would that be possible?'. Ishimori said, 'I think we could manage it,' so we decided to do it.", said Shimasue.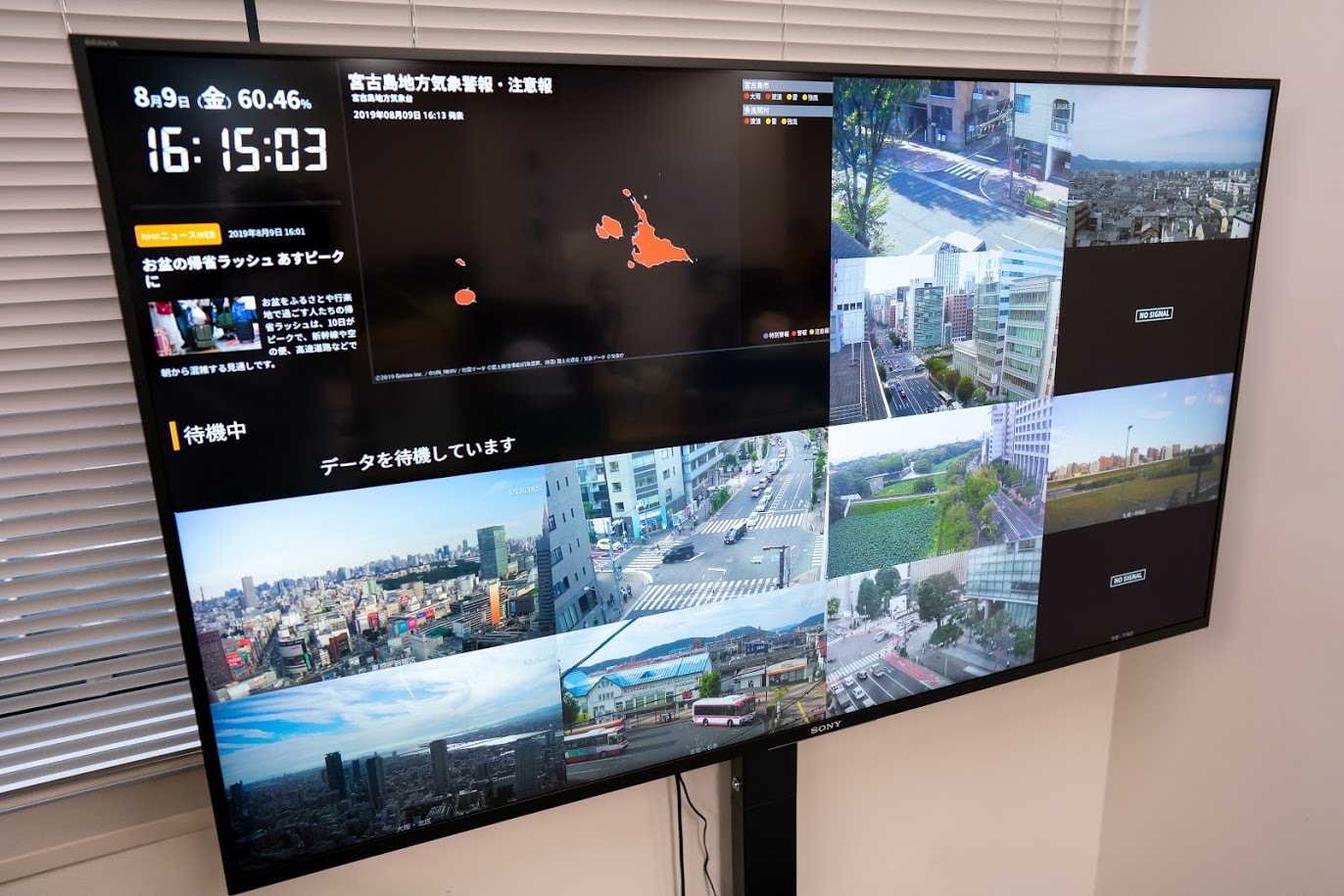 The live feed from our weather cameras that caught Shimasue's eye (Gehirn Command Center)
From there, in parallel with the preparations for the live broadcast from the Japan Expo in France, we made quick decisions on everything from where and how to install the weather cameras to the arrangements for the internet connection and housing facilities.

Due to the time frame of the project, we were limited in one aspect. "The weather camera could broadcast live from each of the six venues, but we couldn't pick up sound. I thought it would be lonely for the users to watch from the app without sound, so I asked 'Did you want to add background music?', so Ms. Shimasue sent over a lot of various music clips from the 'Rebuild of Evangelion' soundtrack, but it wasn't just in MP3 or anything like that..." said Ishimori.

This is how we completed the background music, by combining multiple audio files recommended by "DJ Ishimori". The playlist was designed to start playing at 8:15pm, the time when Yoko Takashi's live performance would start, and was scheduled to finish exactly at the end of the event. Upon seeing all of the people who came to the venue early and were waiting around for the show to start, Ishimori decided "It's going to be sad if there's no sound, so let's play the background music early".

However, "The response on Twitter was huge. Some people said, 'It's playing all my favorite songs!' and some users started taking pictures in front of the weather camera to take a screenshot of themselves in the app", said Ishimori.

For Gehirn, this use of the weather camera was a real eye-opener. Takashi Nukaya, Managing Director at Gehirn, said, "Originally, the weather camera was developed as a device to collect and relay weather and disaster prevention information, so it was rather refreshing to see that it could also be used in such a way."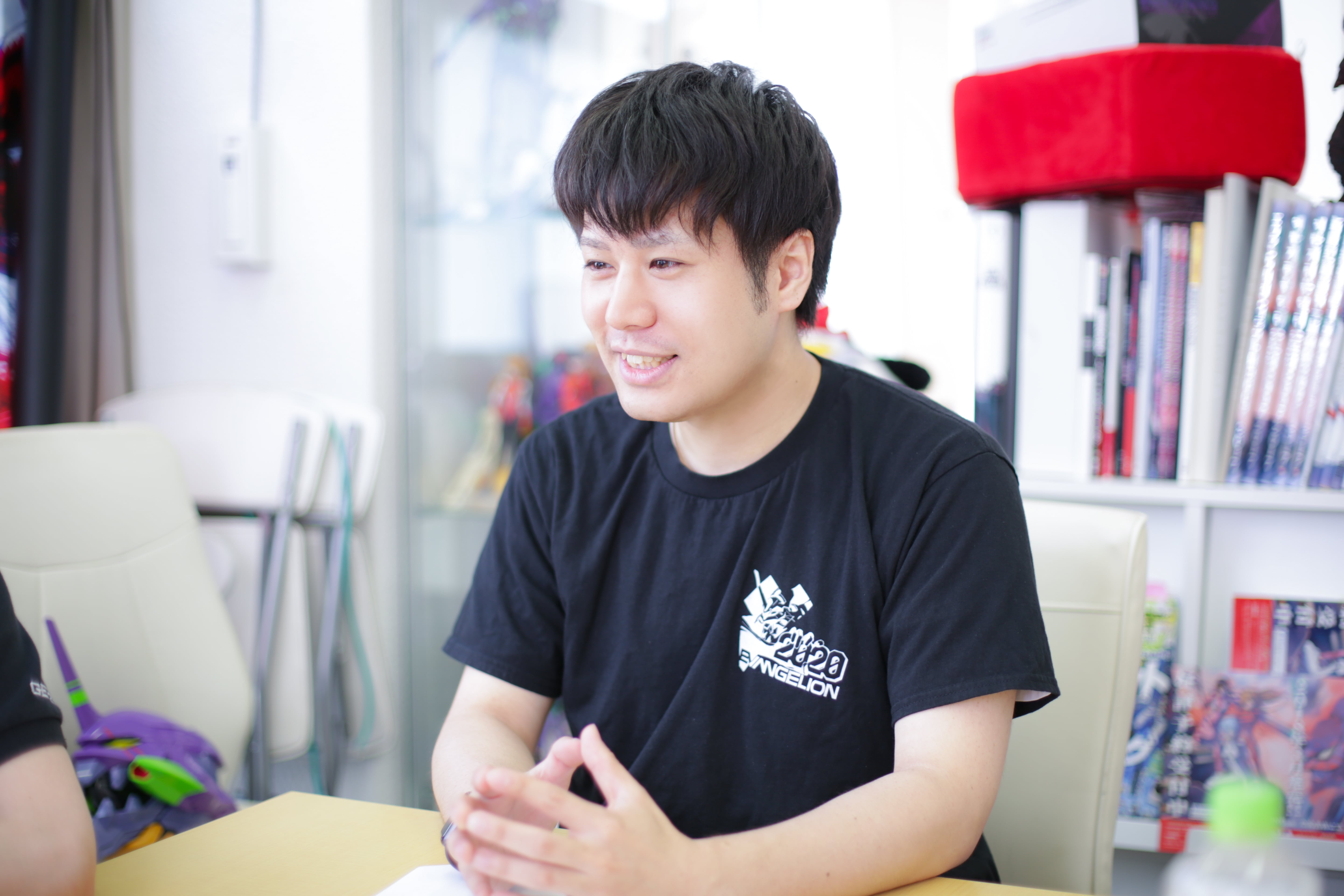 Takashi Nukaya, Managing Director at Gehirn Inc.
Ms. Shimasue, who was busy preparing for the Japan Expo in France, watched the event from the side and said, "It was great to see people enjoying the same thing in Sapporo and Fukuoka at the same time, even though they are so far apart."

Ms. Shimasue added, "Weather cameras have an image of being stationary, but I think they can be used for more entertainment because they are packaged to protect against rainwater, require only one power source, and can send images in real time. We'll see what we can do with it, but we're thinking of using it for the opening of the movie."
"Operation 0706", made possible by the combination of passion for the work, and a high degree of technology
Thus, "Operation 0706", which attracted about 100,000 people in Japan, ended successfully. Ishimori and the other members of Gehirn seemed to be in a state of "We're being tested by khara, aren't we?"

In addition to the work in Japan, Gehirn provided technical support in every aspect, such as assisting in the testing of the distribution server in France, and preparing manuals for the operators who operated the servers at the relay sites around Japan. Gehirn also answered technical questions one after the other in the LINE group of the concerned parties, where the group chat was nicknamed "Extreme Speed", to the extent that if there was no response for 15 minutes, people would think "What happened to Ishimori-san?". Just before the event, a message was posted on the LINE group saying, "He seems to be asleep right now, but even though I have a lot of questions, let's not disturb his rest."

"The fact that the project went well, including the weather, was probably due to good luck, and the hard work of everyone involved, but I think the reason we were able to recover from the various small mistakes was that we had Gehirn's backups and the key part of the server didn't collapse," recalls Ayako Kamimura, Groundworks' planning manager."

Ishimori and Gehirn joined "Operation 0706" as engineers and as Evangelion fans. However, Shimasue says, "We didn't ask them to do it because they were fans. The most important thing was that the project was backed by technology, which gave us a sense of security."

"At the same time, because they had seen and known what we had been doing for more than ten years, they understood the mood and direction of the work without my having to explain it to them, and on the contrary, they suggested the best way to go about it. That's why I think it led to the 'extreme speed'", said Ms. Shimasue.

We look forward to the next strategy following "Operation 0706", which was made possible by our strong passion for the work and our technical skills.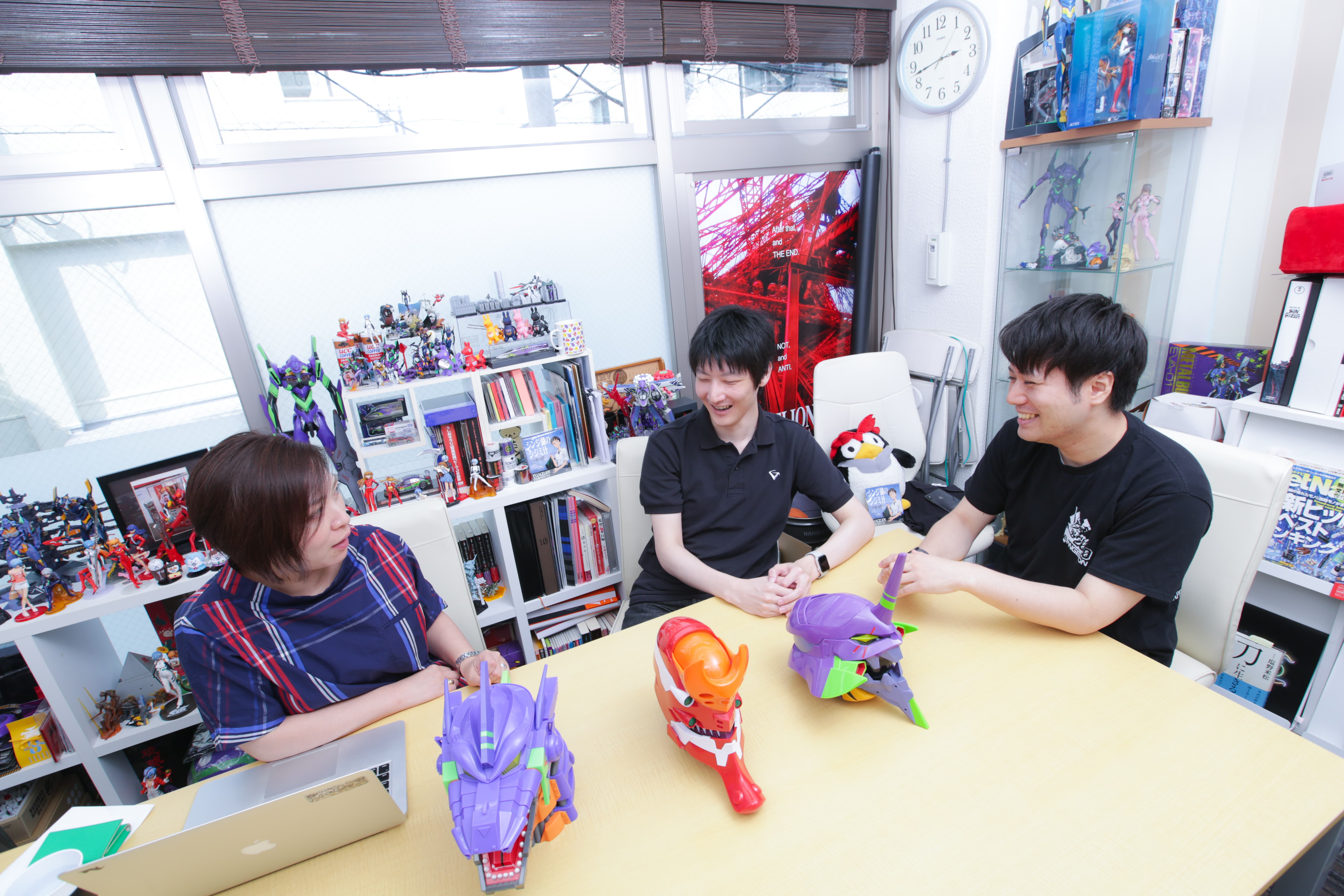 This article is based on an interview conducted in August of 2019.