The following article has been machine translated, and may not be completely accurate. If you'd like to view the original interview in Japanese, click here.
In the last few years, disasters have occurred in many parts of the country every year. In an age where you never know when a disaster might strike, it is more important than ever to be prepared for emergencies.

In such a situation, Forica Foods, a manufacturer specializing in disaster meal kits, nursing home meals, and hospital meals, has released a new disaster meal kit 'NERV Disaster Preparedness Rations' in collaboration with the anime series 'Evangelion'. This is a disaster meal kit developed based on the concept of the disaster supplies distributed by NERV, the special service agency that appears in the series, to the citizens of the 'Third New Tokyo City'. It contains not only white rice, but also side dishes, and also comes with a heating agent, so even in a disaster situation where there is no electricity or gas, it is possible to have a warm meal.
'Rescue Foods' support disaster relief workers with hot meals
As the saying goes, "you can't fight a war if you're hungry", and when an unexpected disaster strikes and you're feeling anxious and don't have the energy to get up, there's nothing like a warm meal to give you strength. For the Self-Defense Forces, the police, and lifeline operators, such as electricity and water companies, who are sometimes themselves victims of the disaster and who are involved in rescue work and the restoration of damaged infrastructure, a hot meal that satisfies hunger can be invigorating.

Forica Foods, which has been providing preserved food such as canned foods and medical meals, developed the 'Rescue Foods' series of disaster foods after the Great Hanshin-Awaji Earthquake in 1995. While most people think of preserved food as something that lasts for a long time, such as canned tuna or dried fruit, Rescue Foods is unique in that it can be stored for a long time and uses a heating agent to provide a ready-to-eat hot meal. The idea is to provide a warm and tasty meal for those working on the front line in times of a disaster.

Kenichi Kasahara of the Sales Department of Forica Foods said: "Even though rations were available for citizens huddled in evacuation centres, those who were engaged in rescue and recovery work were working around the clock without a good meal. Rescue Foods was born out of a desire to help these people by providing them with meals similar to those served by the Self-Defense Forces."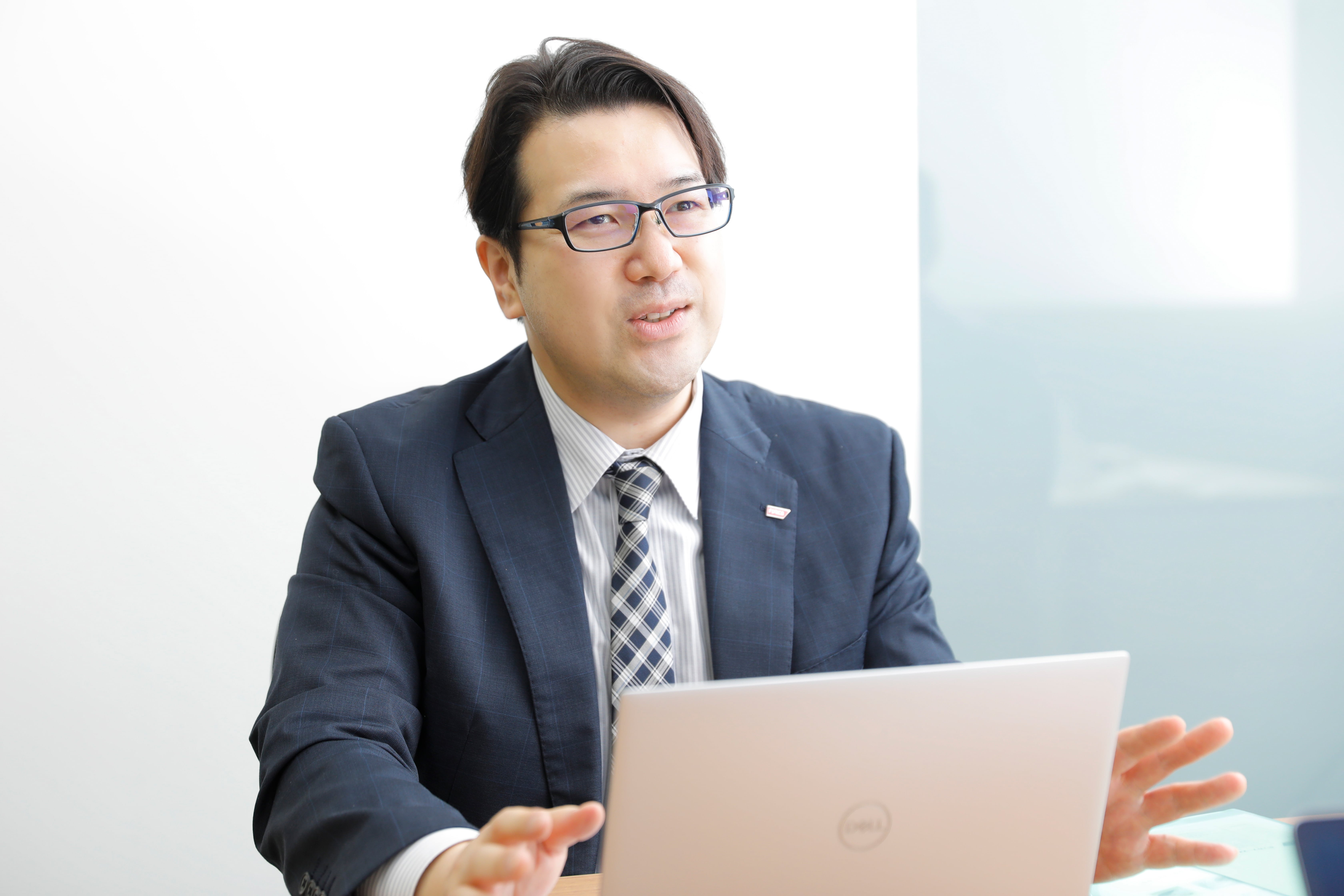 Kenichi Kasahara, Sales Department, Forica Foods
Forica Foods, based in Uonuma City of Niigata Prefecture, was affected by the 2004 Niigata Chuetsu Earthquake, and decided to use Rescue Foods themselves. At that time, there was still only one type of dish, 'chestnut rice with mixed vegetables'. Many people commented that it would be nice to have more varieties and that it would be better to combine side dishes as well as main dishes, so that people would not get bored. We made the most of this and have expanded the range to include main dishes, canned foods and soups.

In fact, at the time of the Great East Japan Earthquake in 2011, Rescue Foods, which had been delivered to the disaster area just before the disaster, was used and people who were working on disaster recovery said that it really helped them.
The 'Iguchi Plan' started after a meeting at a disaster prevention forum
So why did Forica Foods decide to collaborate with the 'Evangelion' series? It all started when Daiki Ishimori, CEO of Gehirn Inc., dropped by the company's booth at the Disaster Prevention Forum held in Sendai, Miyagi Prefecture, looking for a possible partner to collaborate with on disaster prevention food.
Daiki Ishimori, CEO of Gehirn Inc.
Ishimori, who was originally a customer of Rescue Foods and trusted the quality of their products, and Manabu Iguchi, Sales Department of Forica Foods, who happened to be at the booth, had a good talk and the project progressed quickly. The project, named the 'Iguchi Plan' after the 'Yaguchi Plan' used in the movie 'Shin Godzilla', was thus launched.

Mr. Iguchi was in his twenties and was not familiar with 'Evangelion' at the time, but he had just changed jobs and wasn't sure yet what to do, so he blindly fumbled his way through the project. "It was the first time for Forica Foods to try this kind of collaboration, but with the support of Gehirn and everyone outside the company, we were excited to work on it. The most important thing was that Mr Ishimori knew and cared about Rescue Foods." recalls Mr Iguchi.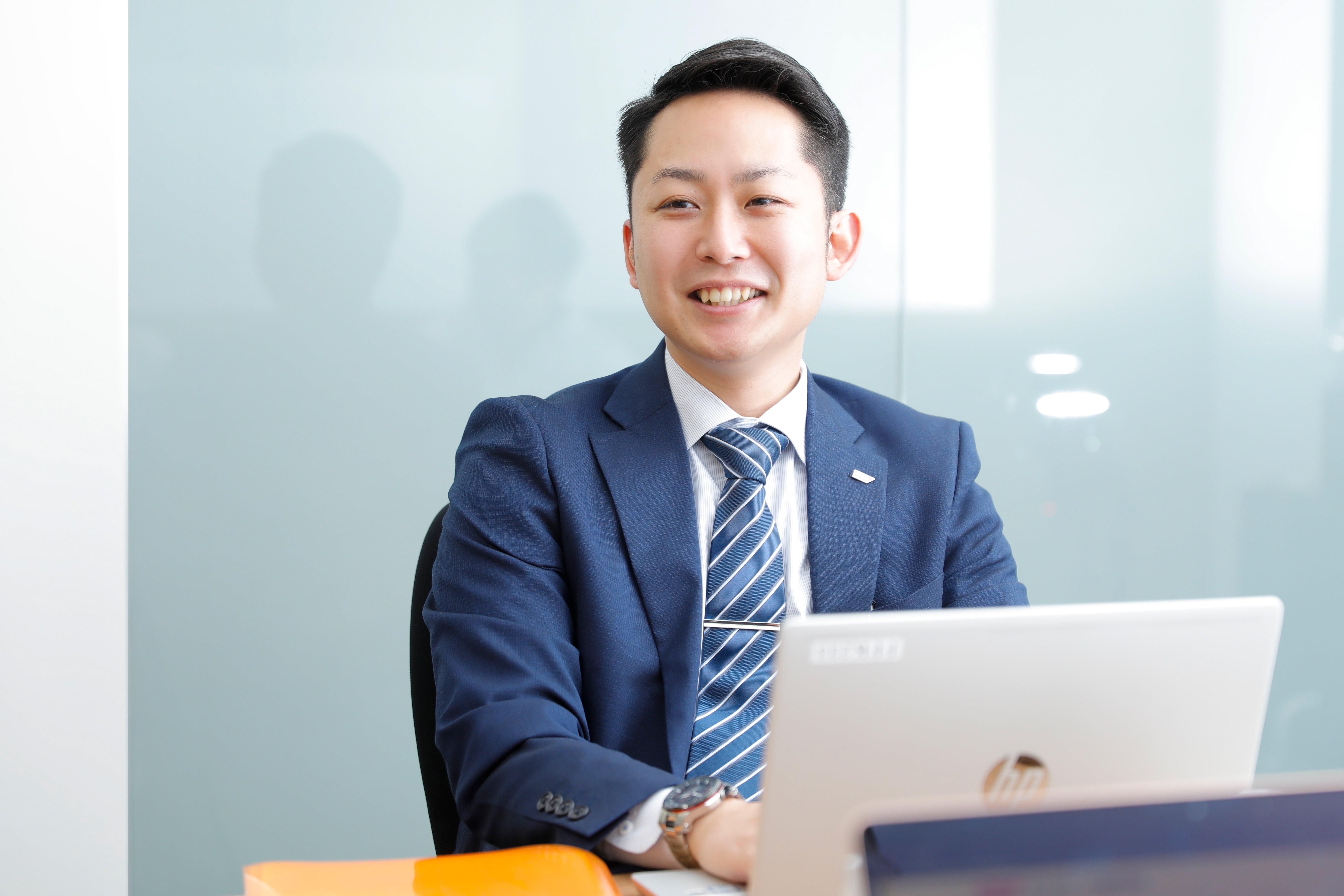 Manabu Iguchi, Sales Department, Forica Foods
It was also the first time we changed the packaging of the simple design of the Rescue Foods range. "This has allowed us to gain a lot of experience in collaboration, which has helped us grow as a company", Kasahara said.
Trial and error to achieve the concept of 'food for the people in the film'
However, there was a lot of trial and error before the packaging was completed. In the early stages, we received a request from the copyright holder, Groundworks, to make use of 'Third New Tokyo City'.

With a vague idea of the balance and perspective of the collaboration, the first thing we had to worry about was the name. It took us a long time to decide on a simple four-letter word that would clearly express the concept of the product: 「防災糧食」, or 'Disaster Preparedness Rations'. We also wanted to make sure that it would only be used in the event of a disaster, which we would rather not have happen. "We wanted to make a name that would be friendly to people in extreme situations", said Ishimori. So we avoided the words 'disaster relief' and instead chose 'disaster prevention/preparation'.

The design also "went astray in many ways", recalled Hanna Sakuragi of Gehirn's Design and Production Division, who worked on the project.
At first, in order to appeal to people's taste for food, the colours were mainly warm colours that are directly associated with the words 'curry' and 'beef bowl'. This made it difficult to distinguish the different colours and individuality of each product line, and Ishimori pointed out that the colours needed to be recognisable even to people with colour blindness.

So Sakuragi experimented with designs that would reflect the individuality of the colours, "Well, how about applying the 'Eva' colours?", she confidently submitted her next prototype. But this time, "This doesn't immerse you enough in the world of 'Eva'. Rather than collaborating with the outside world, I want you to design it in the image of the food that the NERV staff and citizens of the 'Third New Tokyo City' actually eat in the film", the response was garnered.

Groundworks also advised us to stick to the concept of food rations rather than sticking to the colours of Eva, as this is what Rescue Foods is all about. The world is full of products made in collaboration with anime. Many of them put the main characters in the foreground. For example, the packaging of 01 would usually be based on the purple colour of Shinji Ikari, the main character, and the first Eva unit. However, disaster food is useless if it cannot be used properly at the scene of a disaster. "The concept of this disaster food is that it is something that NERV distributes to the public, and if you look at it from an outside perspective, if you put the character in the foreground, some people might not pick it up. We thought it wouldn't function properly as a food supply at the scene of a disaster." said Ishimori.

In this way, the design was brushed up with the image of a so-called 'military meal'. The designs were printed out in full size, assembled into a box shape, checked, revised, printed again... and so on. It was for this reason that Sakuragi, who works from home, was misunderstood by her children at nursery school, who asked if she had been "playing with crafts" today. The printer was so overworked that it broke down and had to be replaced, but even so, "I was very particular about how it would look", said Ishimori.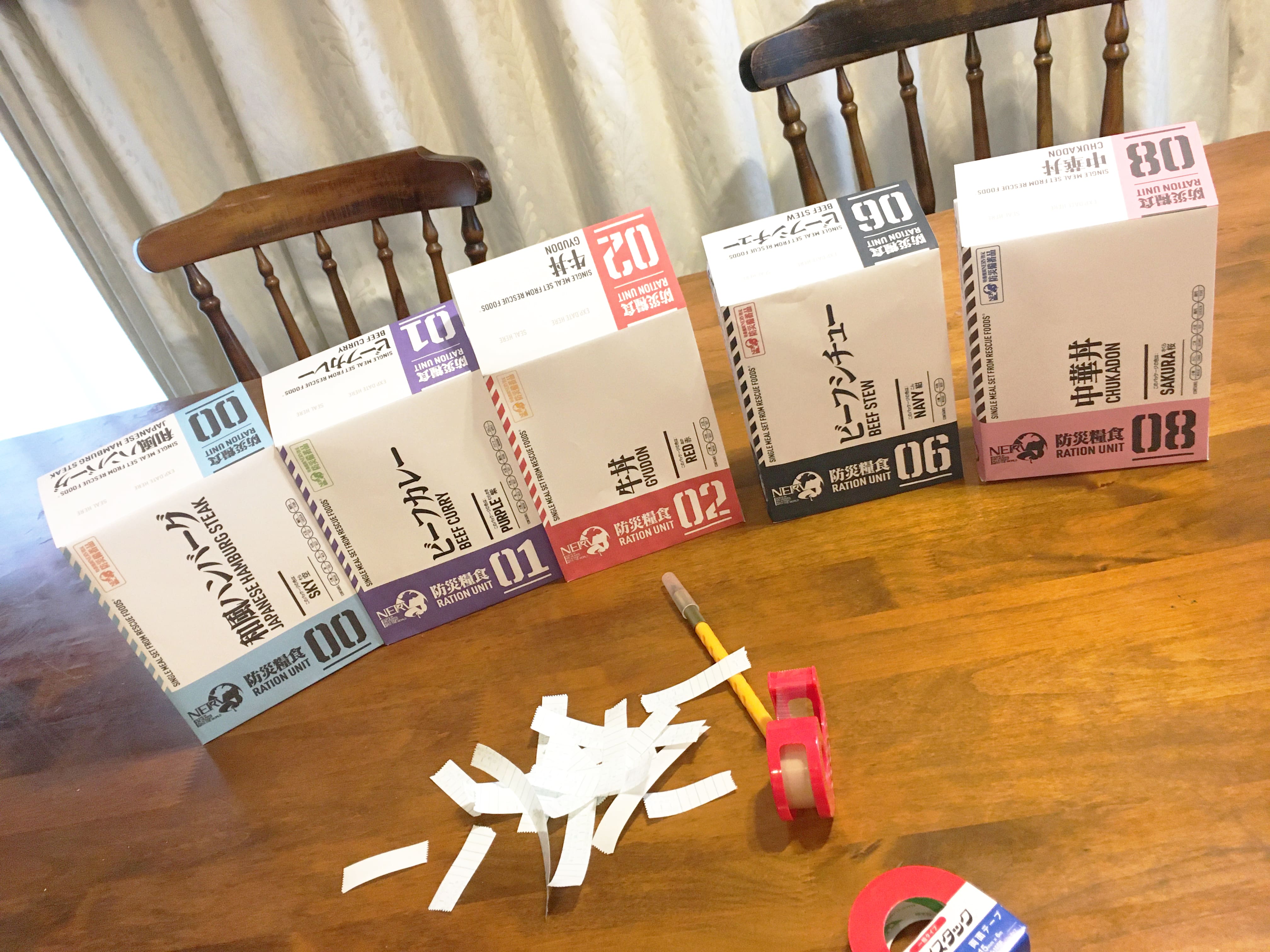 Early packaging prototypes being crafted to look like each of the Eva units (photo by Sakuragi)
Because it is a food product and because it is stockpiled for emergencies, we have also taken into consideration universal design, which means that it is easy to read for a wide range of people. As mentioned above, we chose colours and shades that can be recognised by people with colour blindness, adopted easy-to-read fonts, provided allergy labels and included English instructions, so that anyone can clearly understand what the food is for. The design of each side also makes it easy to identify the contents, even if they are stored in a tall stack in a warehouse.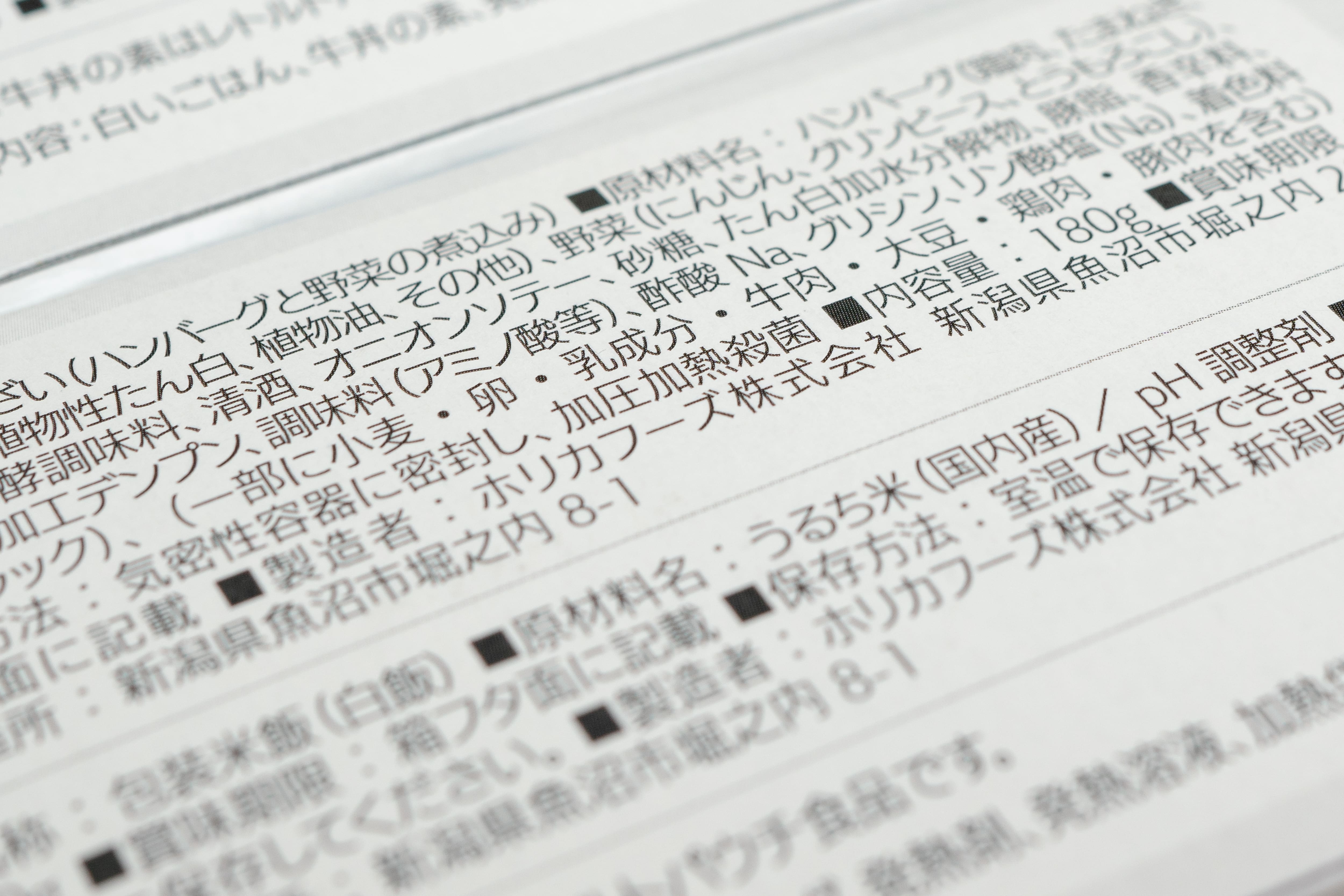 Highly legible UD Kakugo font on the sides and back of the package
Sakuragi said: "When we went ahead with the selection of colours that even a person with colour blindness could understand, we somehow ended up with colours that coincided with the original design of Rescue Foods, and Forica Foods jokingly asked if we had just colour-matched the original", and so the final design was decided.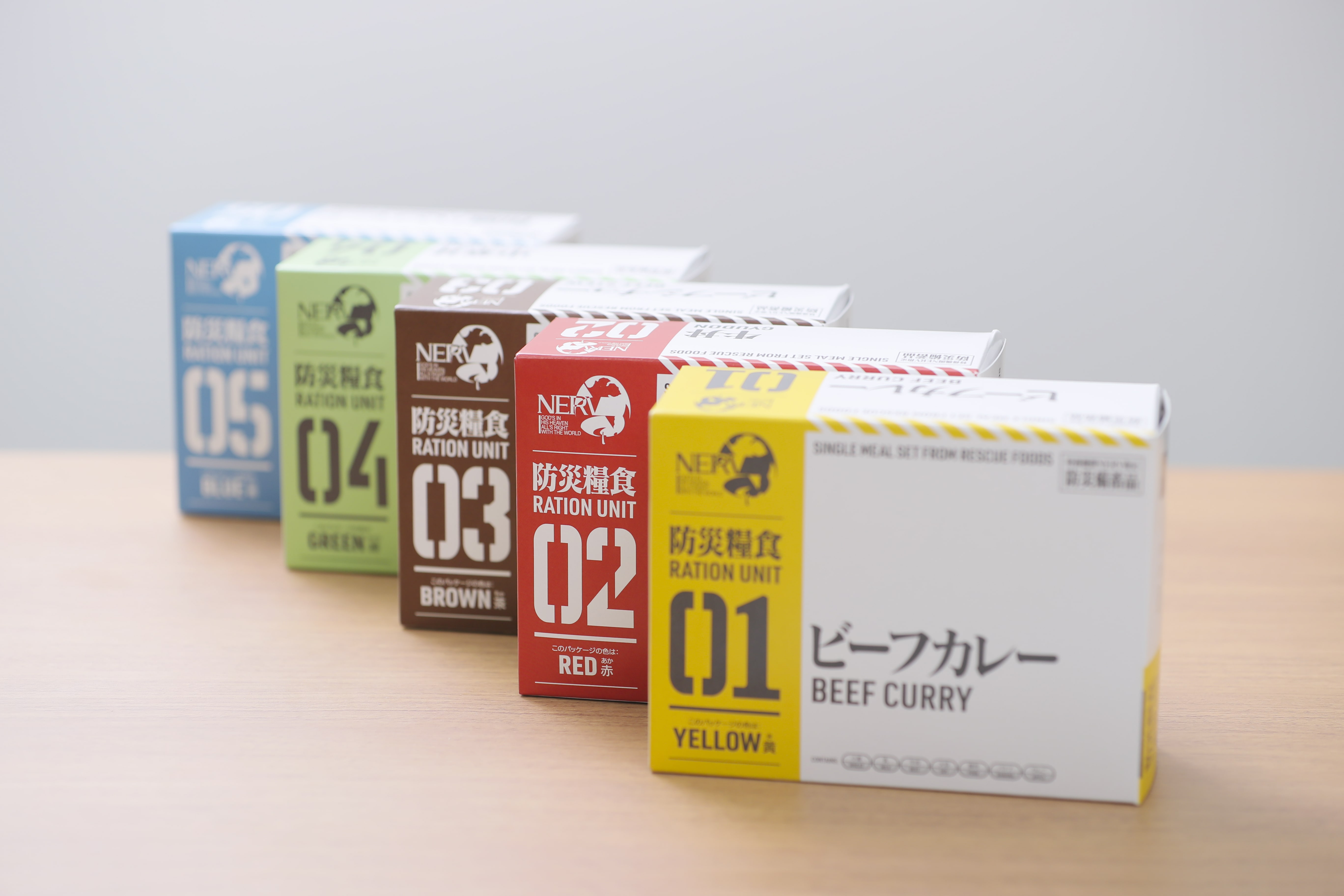 NERV Disaster Preparedness Rations
A simple design that wraps professional quality sustenance that has been received, well in advance
With a tight timetable, the 'disaster relief food' was completed after much deliberation. The two companies aimed to create a universal product, not only in terms of design but also in terms of content, considering the development of low allergen and gluten-free food. However, as the food is intended to be consumed by people, it takes more than three years from planning to implementation, including testing. For this reason, they have decided to leave it as an issue to be discussed in the future.

Even so, "at first I thought we were going to get something with Shinji-kun and Ayanami Rei's designs on it, but I thought it was a very simple and cool design. When I saw this, I felt comfortable saying, 'Oh, so this is how they thought of it'", said Iguchi. Other employees say that the concept of Rescue Foods as a disaster food and professional food has been well received by the company.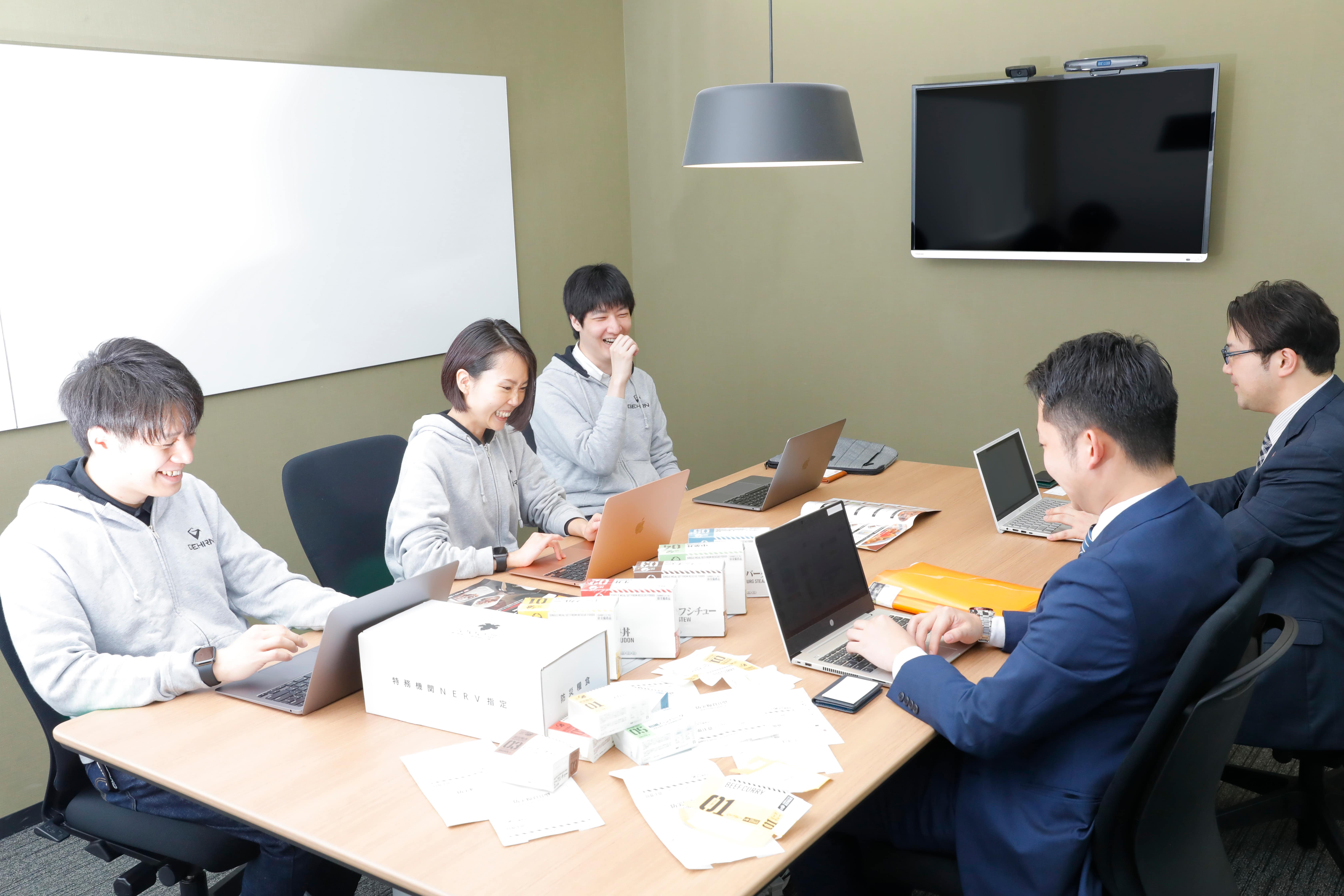 Dialogue
When Ishimori distributed it to some of the companies he had met through his work connections, they were all fighting over it. He also received an offer to send it to Yatsushiro City, which was suffering from torrential rains that hit Kyushu.

"It's not easy to eat cold meals for days on end. It's reassuring to know that you can have a hot meal with just one of these. I'm glad we were able to work together to create this new packaging.", said Ishimori. Mr Iguchi added: "The best thing is that disaster food is not used. However, in the unlikely event of a disaster, we hope to be able to help people by providing them with a hot meal, even without access to fire or water."

The two companies, linked by the 'Iguchi Plan', will continue to work together to support people in the face of disaster.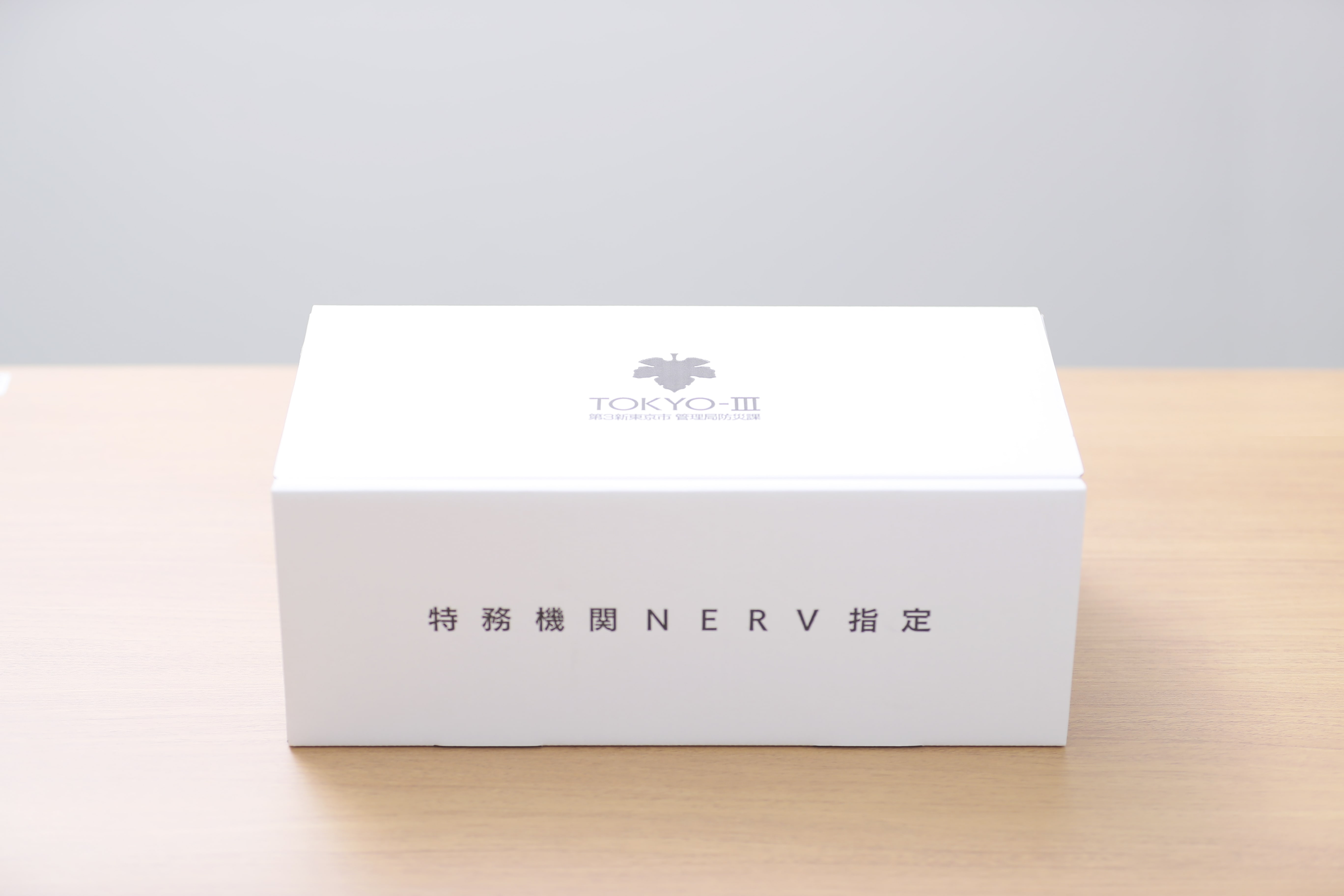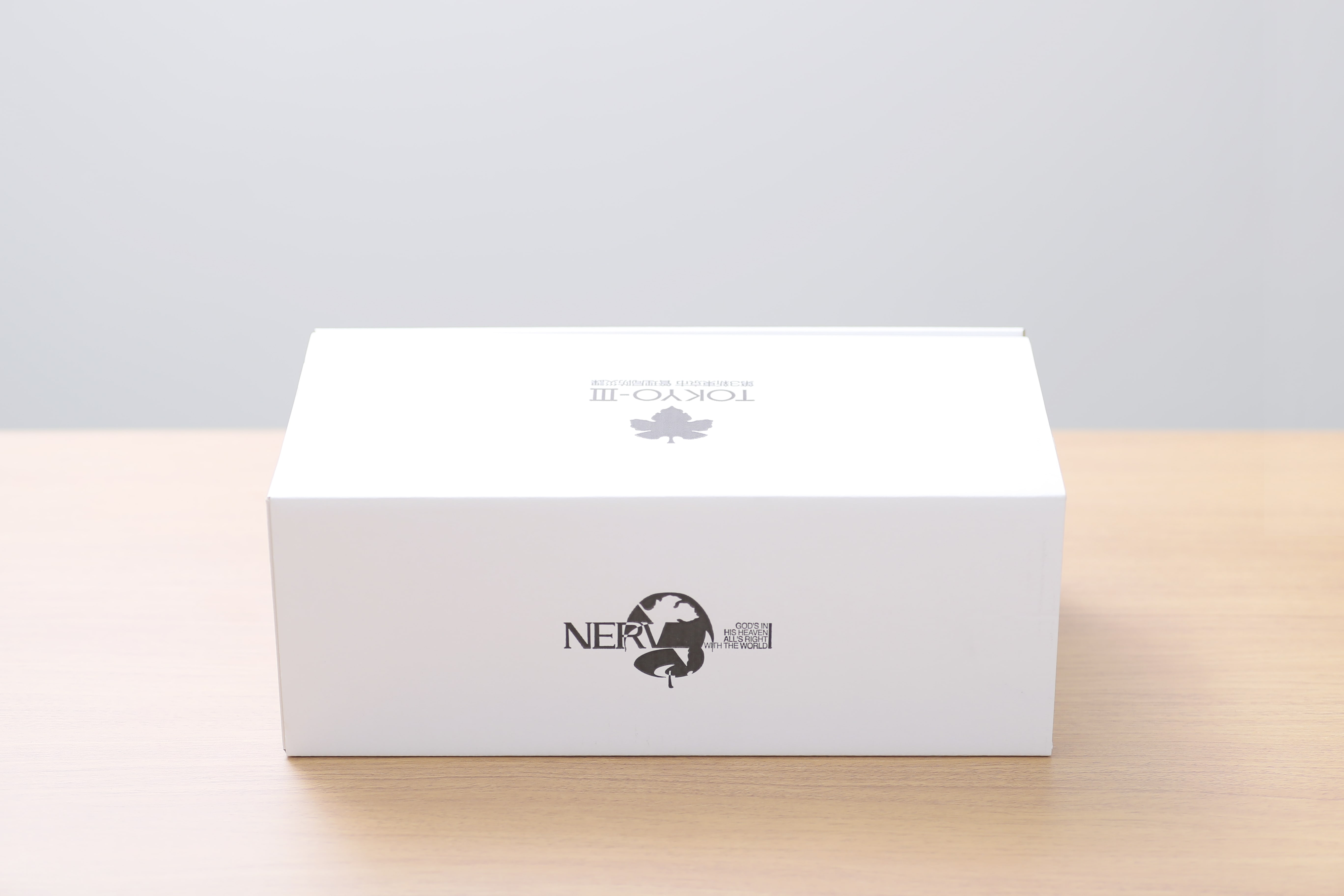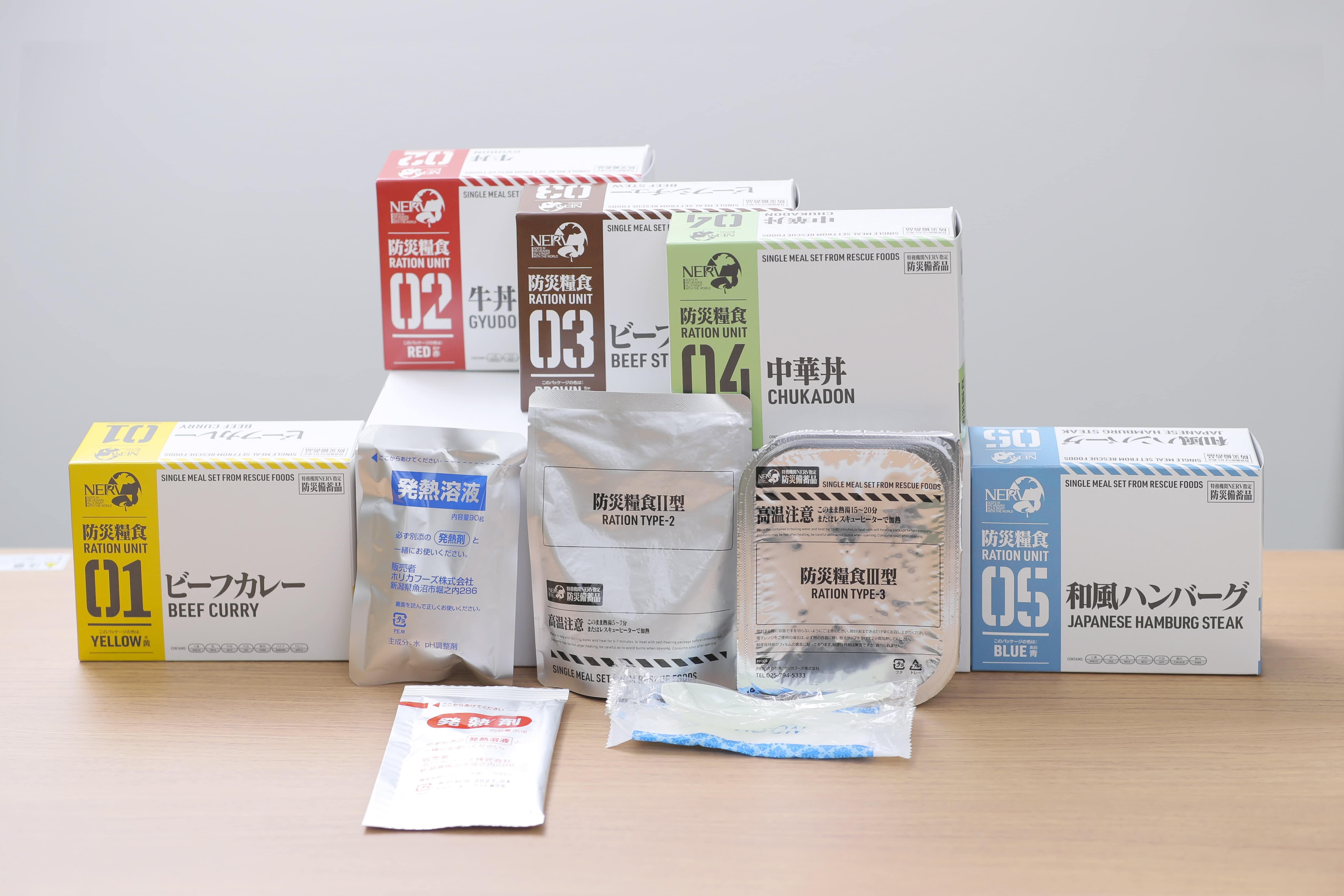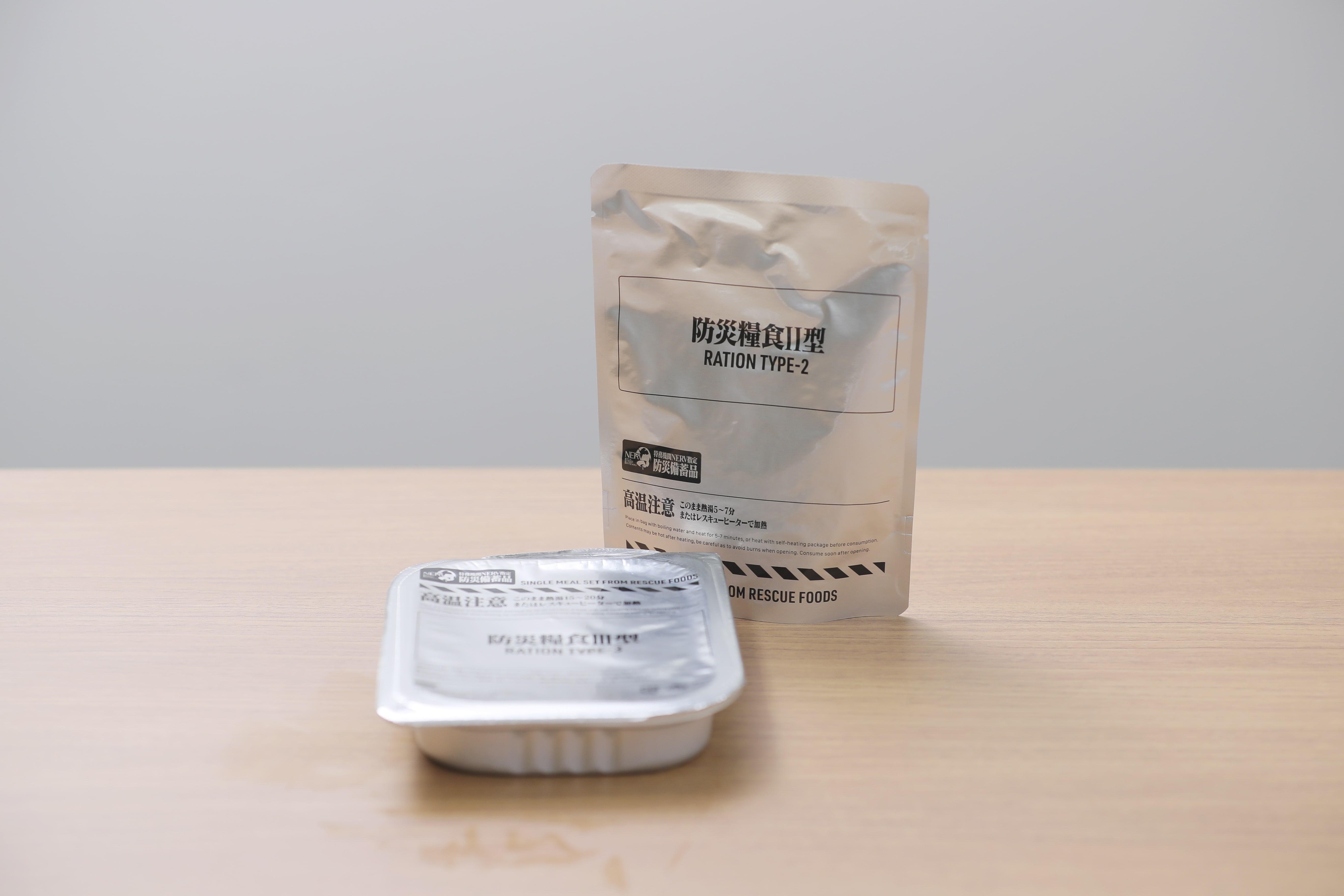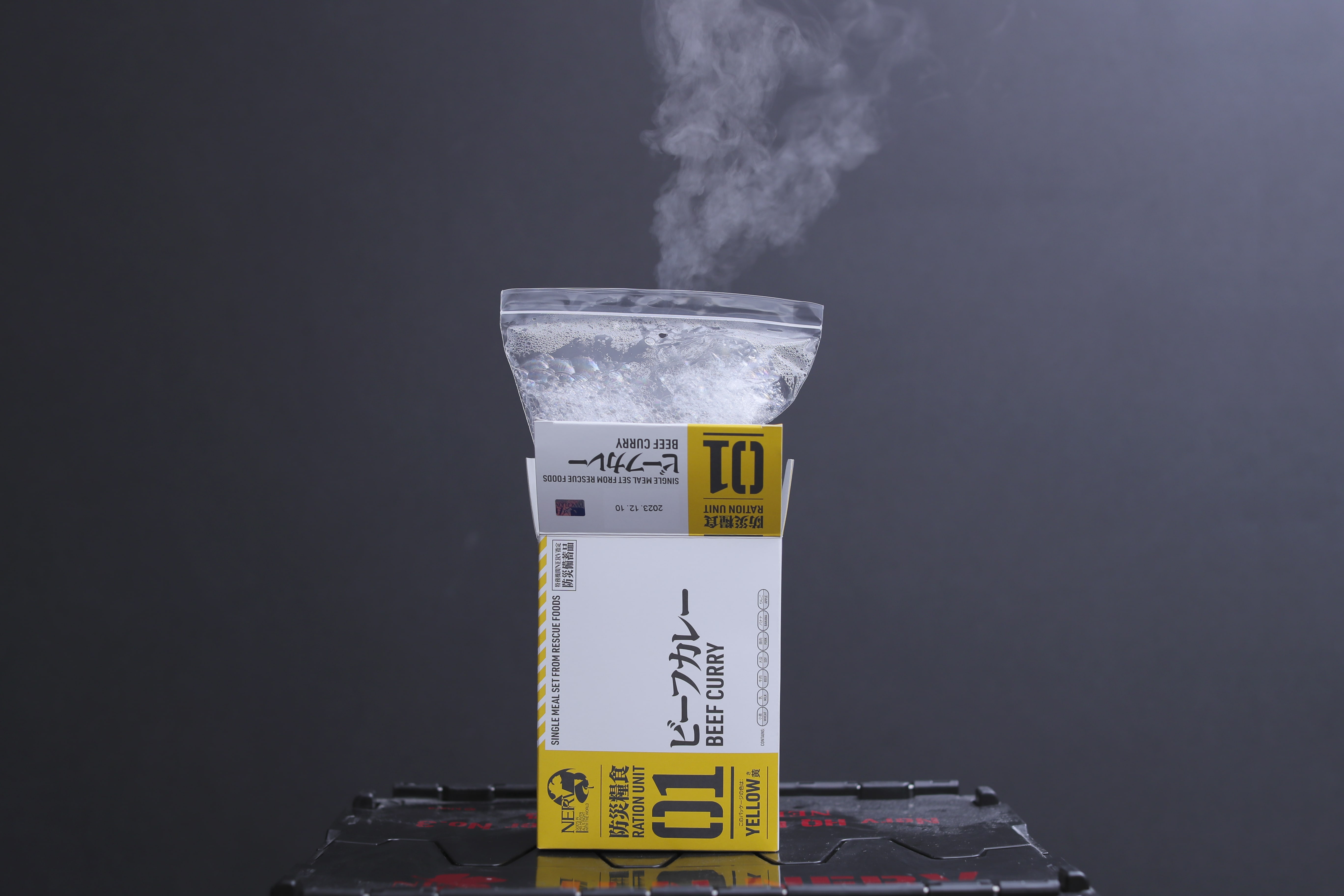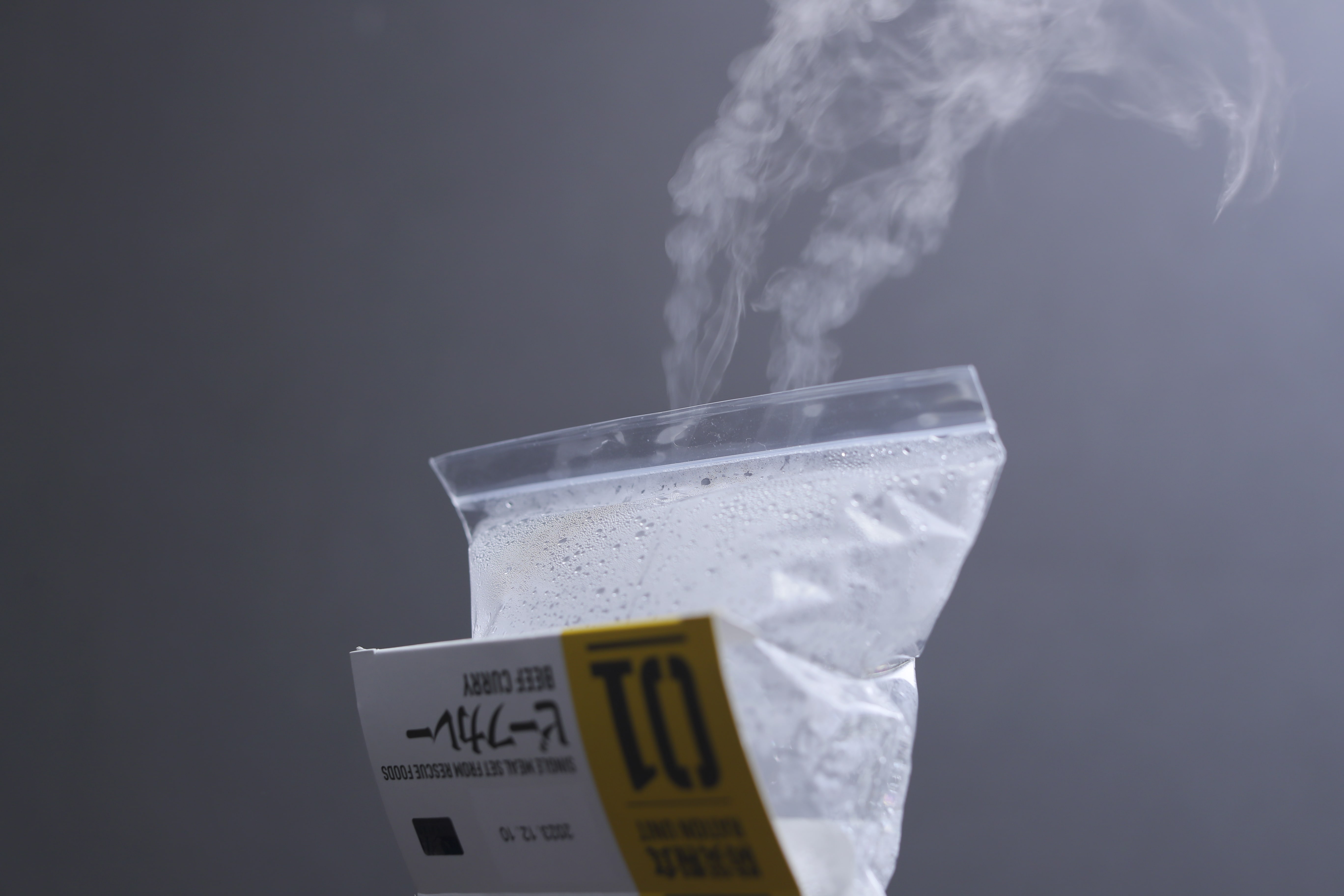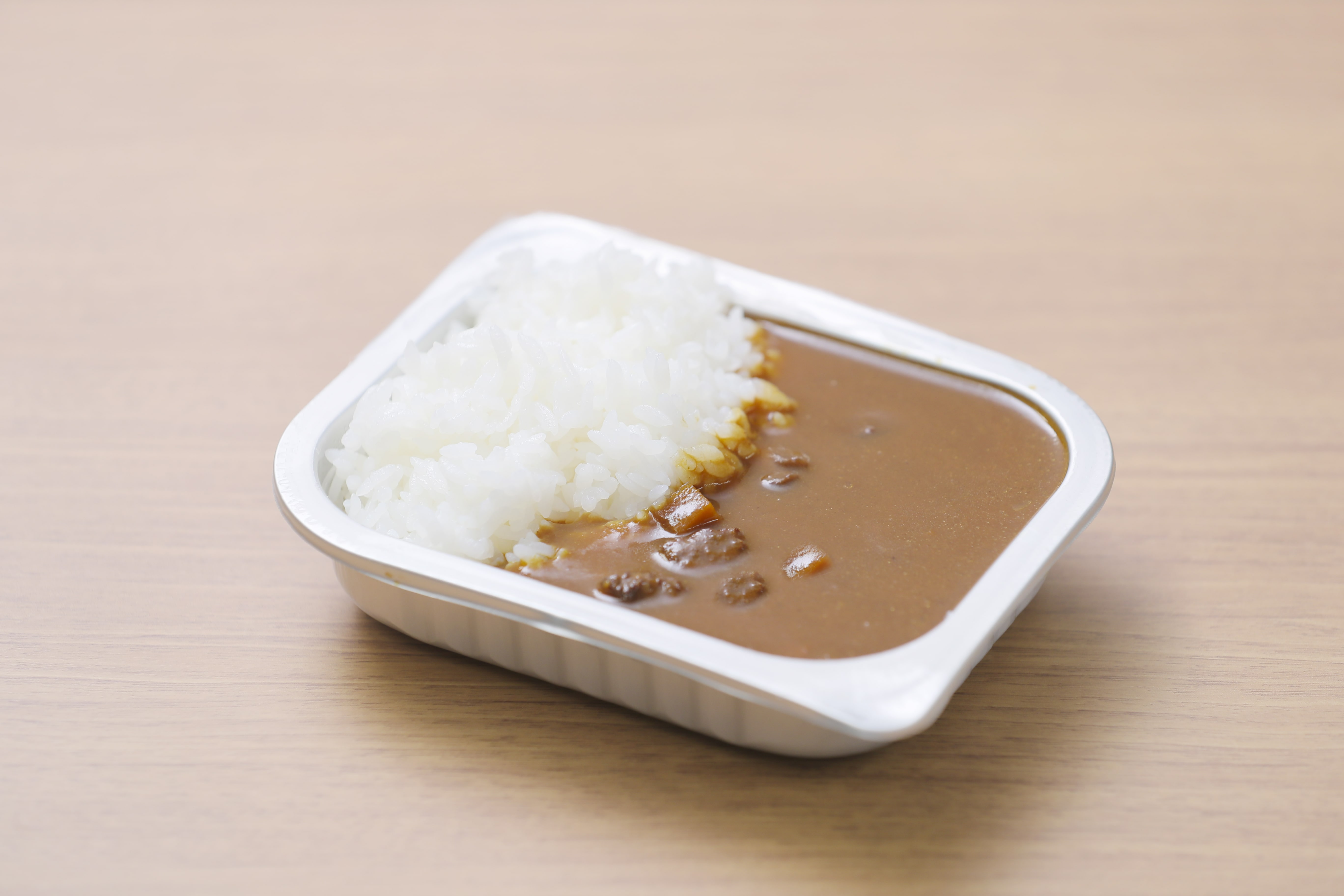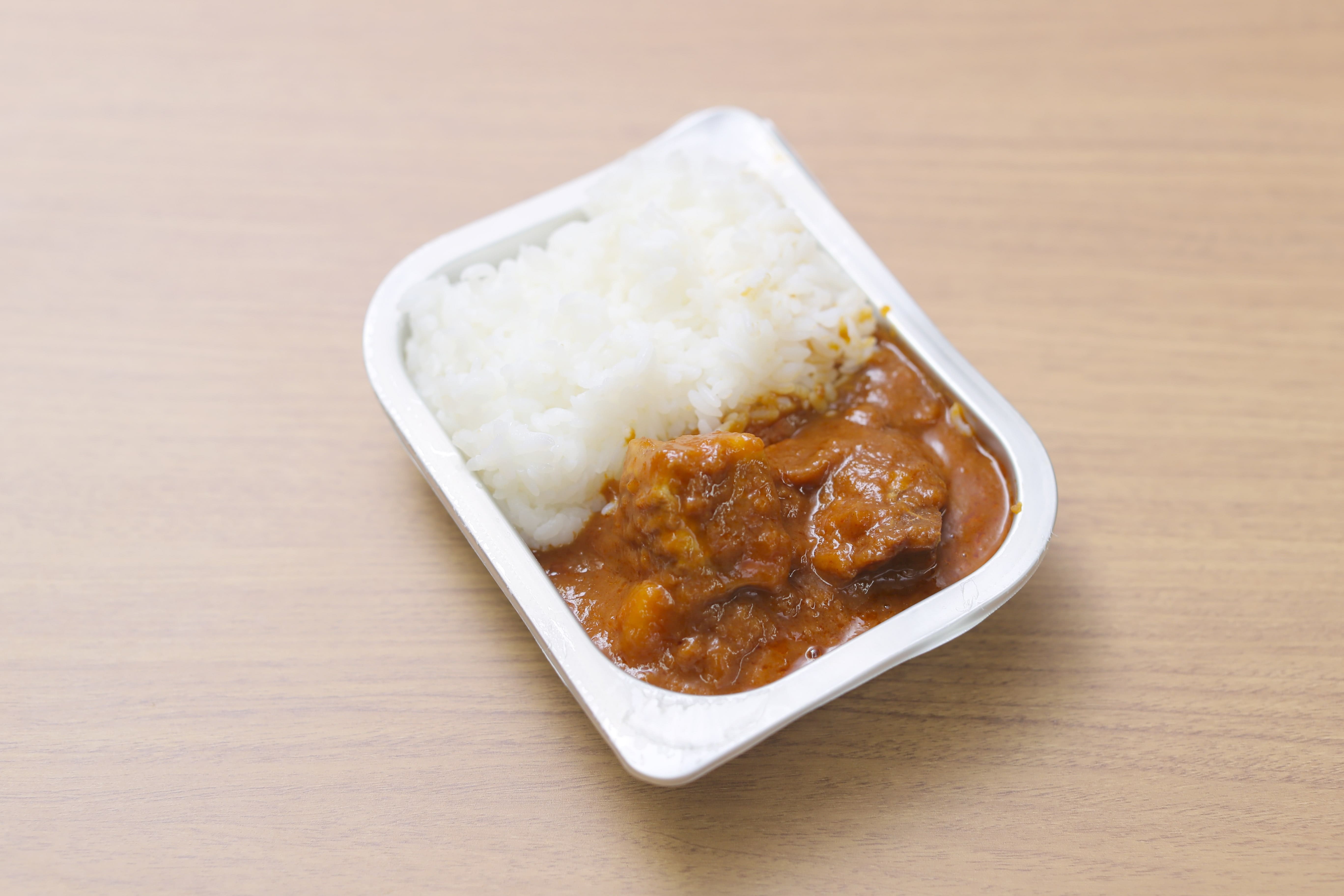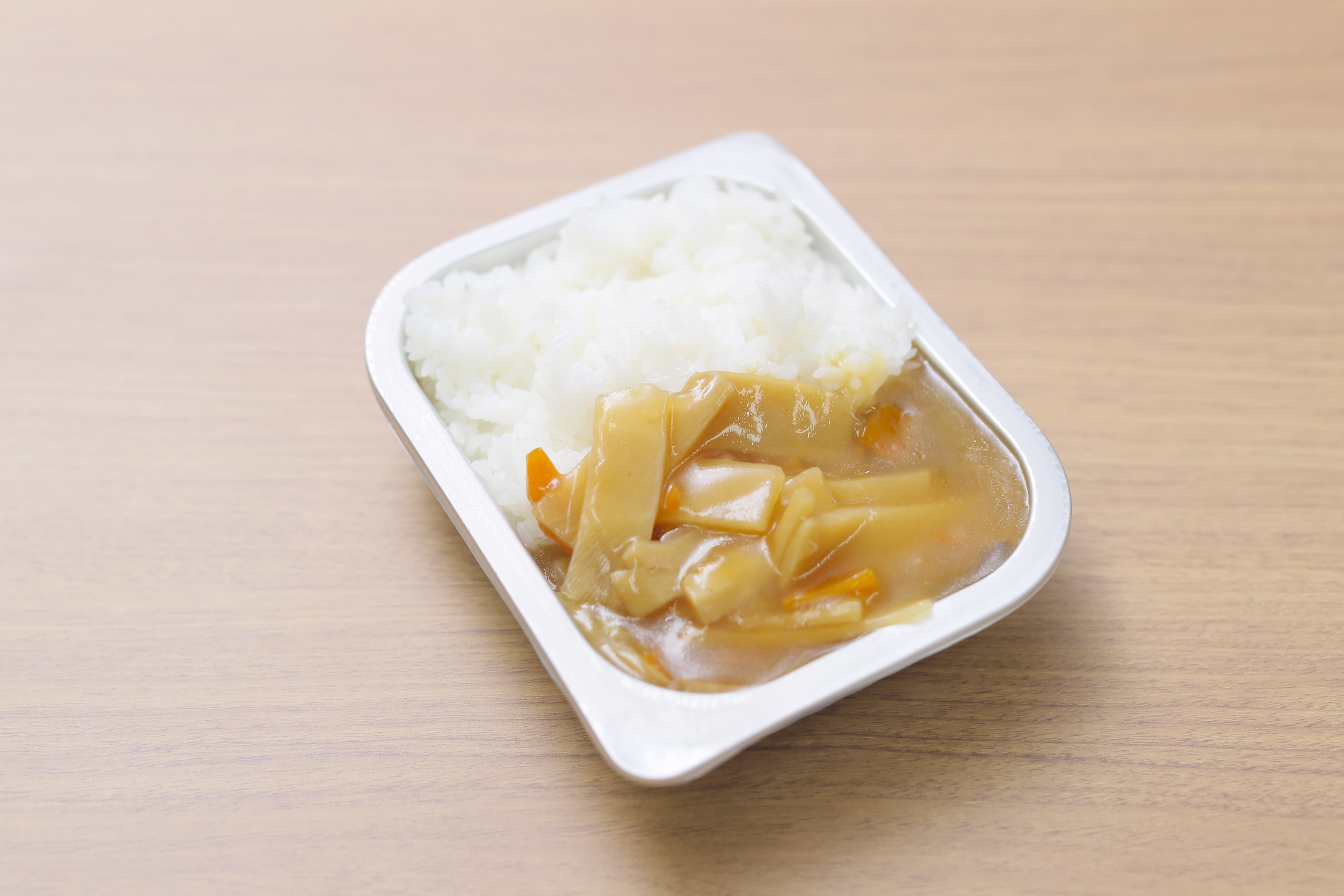 This article is based on an interview conducted in July of 2020.