"NERV Disaster Response Vehicle" Project... Ready, Set, GO!
PDF Available here (Japanese)

Gehirn Inc.
Mitsubishi Motors Corporation
SKY Perfect JSAT Corporation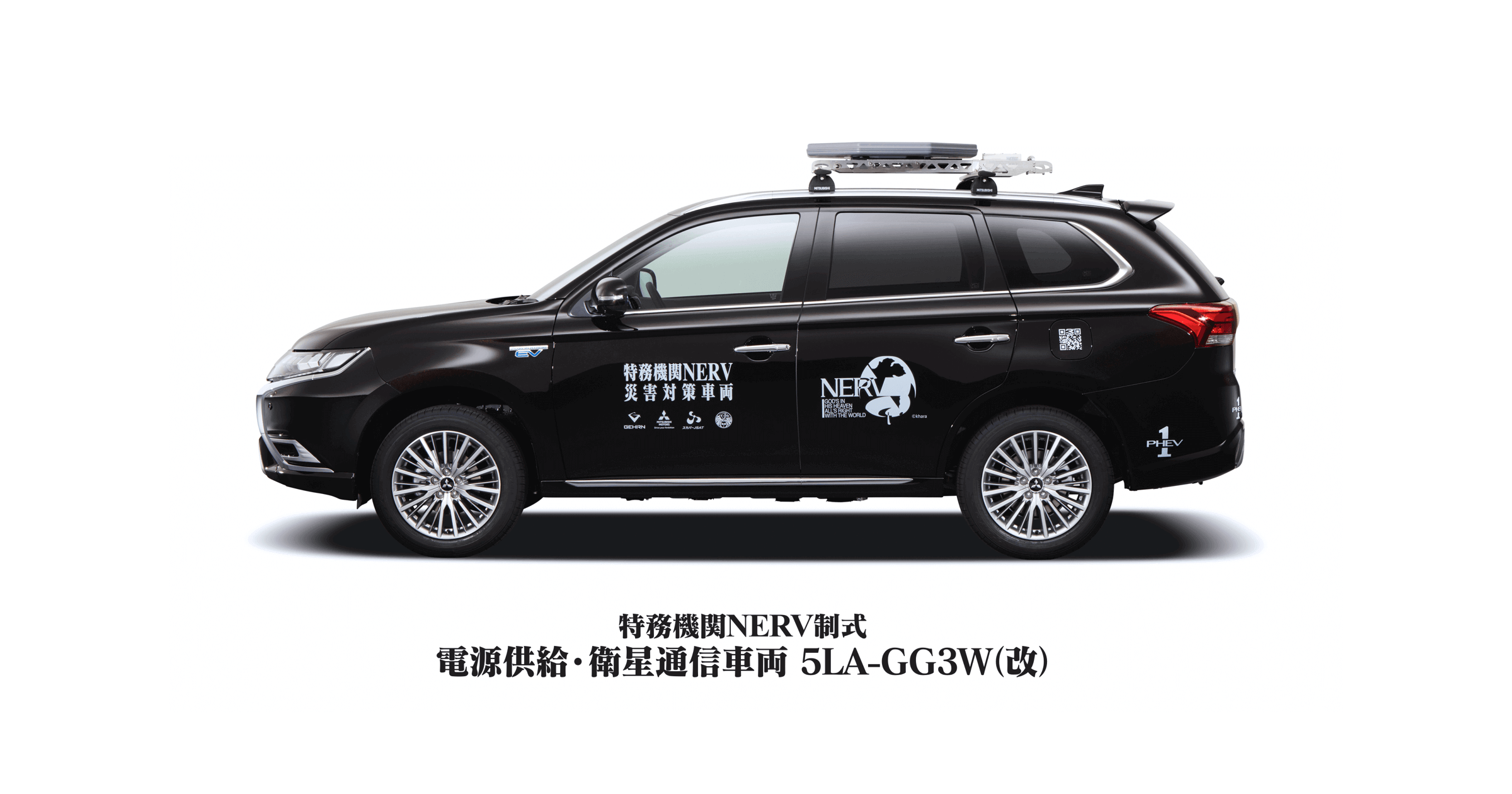 Gehirn Inc. (Headquartered in Chiyoda-ku, Tokyo; CEO: Daiki Ishimori; hereinafter referred to as 'Gehirn'), Mitsubishi Motors Corporation (Headquartered in Minato-ku, Tokyo; Representative Executive Officer and CEO: Takao Kato; hereinafter referred to as 'Mitsubishi Motors'), and SKY Perfect JSAT Corporation (Headquartered in Minato-ku, Tokyo; Representative Director and President: Eiichi Yonekura; hereinafter referred to as 'SKY Perfect JSAT'), have jointly produced a disaster response vehicle, the "NERV Power Supply and Satellite Communications Vehicle 5LA-GG3W (Modified)"1 (hereinafter referred to as 'the vehicle'), which is designed to continue disaster information distribution services and provide support to neighbouring municipalities in the event of a prolonged power outage or communications network disruption due to a disaster.
Gehirn has been working on a business continuity plan (BCP) to deal with prolonged power outages, based on lessons learned from the 2006 power outage in the Tokyo metropolitan area caused by a crane ship coming into contact with an overhead power line, the planned power outage in the TEPCO service area in 2011, the major power outage in Hokkaido caused by the 2018 Hokkaido Eastern Iburi earthquake, and the prolonged power outage in Chiba Prefecture caused by Typhoon No. 15 in 2019. In order to secure our own power and communications in the event of a disaster, and to continue our disaster information distribution service, we have built a disaster response vehicle with a large battery and satellite communications equipment. In the event of a disaster that does not affect the continuity of NERV's disaster information distribution service, the vehicle will be dispatched to the affected area to support the disaster management headquarters and evacuation centres.
The vehicle, based on Mitsubishi Motors' Outlander PHEV, is equipped with Kymeta's flat antenna terminal and can connect to the Internet via SKY Perfect JSAT's communications satellite.
In addition, the satellite safety confirmation service "Q-ANPI" that uses the Quasi-Zenith Satellite "Michibiki" (hereinafter referred to as "Michibiki") has been installed in the vehicle, on loan from the Quasi-Zenish Satellite System Strategy Office, Secretariat for Strategic Promotion of Space Development, Cabinet Office.
Objectives: To develop a disaster response vehicle that integrates self-help, mutual-help and public-help
1. Continue operations of the NERV Disaster Prevention Information Distribution Service
Gehirn distributes disaster prevention information through the NERV Disaster Prevention App and other means, but the risk of the information provider ceasing to function must be minimized. In the event of a power outage or communication failure at NERV HQ, this vehicle will be used to independently secure power and communication to continue the disaster information distribution service.
2. Support to disaster management headquarters and evacuation centres in neighbouring municipalities
When the disaster prevention information distribution operation of NERV is not disturbed, the satellite-equipped vehicle will be dispatched to the disaster-stricken area to provide disaster prevention information to the disaster control headquarters and evacuation centers, etc., using power supply and charging services, telephone services, Wi-Fi internet connection services, the internet and Michibiki's disaster/crisis management reporting service.2
3. Participation in disaster prevention drills and presentation of model cases of disaster preparedness by local authorities and companies
Through training by the Disaster Medical Assistance Team (DMAT) and participation in disaster prevention events throughout Japan, we will introduce the usefulness of plug-in hybrid vehicles, satellite communication services, flat antenna terminals, Michibiki, and cooperate to further strengthen disaster preparedness by presenting the importance of municipalities and companies securing their own electricity and communications using this vehicle as a model case.
Mitsubishi Motors offers the Outlander PHEV
The Outlander PHEV is a plug-in hybrid SUV with a high output motor, a large capacity battery and a quiet and efficient 2.4 litre engine. As one of its features, it has two 100V AC power outlets inside the car, which can provide a total of 1500W of power. In addition, by using a V2H device that connects the car to the home, the car can supply enough electricity to power an average home for up to one day on a full charge, or up to 10 days on a full tank of petrol when combined with power generation from the engine. In addition to these functions, the vehicle combines the convenience of an SUV with the high driving performance of a twin-motor 4WD, and has been deployed to disaster areas to supply electricity in the wake of the 2018 Hokkaido Eastern Iburi Earthquake and the major power outage in Chiba Prefecture in September of this year.

For more information about the "Modified NERV Outlander PHEV": click here. (Japanese only)
Mitsubishi Motors has endorsed Gehirn's plan and has made this project possible by providing two Outlander PHEVs.
SKY Perfect JSAT to provide satellite communication service and flat antenna terminal
SKY Perfect JSAT's satellite communication service provides an internet connection service with the three strengths of satellite communication: disaster resistance, wide area and flexibility. The flat-antenna terminal manufactured by Kymeta Corporation of the United States automatically captures and tracks satellites, making it easy for anyone to use two-way satellite communications. In addition to the disaster resistance of satellite communication, the flat antenna terminal and satellite communication service provide mobility for mobile communications, which is expected to be used in special vehicles for BCP and life saving operations.
For more information on SKY Perfect JSAT and Kymeta's initiatives: click here. (Japanese only)
Gehirn called on SKY Perfect JSAT for cooperation, and SKY Perfect JSAT provided flat antenna terminals and communication services to make this project a reality.

QZSS Strategy Office of the Cabinet Office lends Q-ANPI terminals for satellite safety confirmation service
The Q-ANPI satellite safety confirmation service can be used as a means of transmitting and collecting information on evacuation centers to control stations via Michibiki. Q-ANPI uses satellites in geostationary orbit to communicate with Michibiki. In the event of a disaster, the satellite will send information on the location and opening of evacuation shelters, as well as the number of evacuees and the status of evacuation shelters, which is essential for rescue operations such as assessing the damage.
Gehirn called for cooperation with the QZSS Strategy Office of the Cabinet Office, and the QZSS Strategy Office of the Cabinet Office lent Q-ANPI terminals to make this project possible.
Comments from the companies involved
In announcing the plan, the companies involved commented as follows
Gehirn Inc.
Our disaster information is helpless if we lose power and communication, both for those who distribute it and for those who receive it.
We have promoted this plan to deliver disaster preparedness information to as many people as possible by securing power supply and communication, as well as the NERV Disaster Prevention mobile application. However, our disaster preparedness vehicles alone are not enough to support all those affected. We hope that this plan will be a model for many municipalities and companies to strengthen their BCP by securing their own power supply and communications.
Gehirn will continue to work to further strengthen the distribution of disaster prevention information.
Mitsubishi Motors
Mitsubishi Motors has been honing its SUV and 4WD technologies for many years. We also have a history of nearly 50 years of EV development, starting with research into electric vehicles in 1964 and launching the new generation electric vehicle, the "i-MiEV", in 2009.
The Outlander PHEV is our new flagship model that integrates our best technologies and has the ability to supply electricity as a form of power supply. We've already seen it as a popular means of supplying power during disasters.
We hope that it will continue to perform its function well in this project and contribute to the realization of a prosperous society as a way of ensuring disaster preparedness.
SKY Perfect JSAT
With a fleet of 17 satellites, we are Asia's largest and Japan's only provider of paid multi-channel broadcasting and satellite communications. We provide a wide variety of entertainment through Japan's largest pay-per-view satellite multi-channel platform "SKY PerfecTV!". In the satellite communications business, which covers Japan, Asia, Oceania and other regions by satellite, we are developing services that emphasize disaster preparedness, mainly in Japan, by taking advantage of the fact that we are not affected by terrestrial disasters.
By working together with our customers through this disaster response vehicle, we aim to create new value for our customers and create a society where anxiety is replaced by peace of mind.
Website: https://www.skyperfectjsat.space/ir/indivisual/3minutes/ (Japanese only)
Groundworks: ("Evangelion" series license manager)
As you know, the name of "NERV Disaster Prevention App" comes from the anime work of "Evangelion".
At the time of the Great East Japan Earthquake, "NERV" was the Twitter account that disseminated disaster prevention information and called for energy saving. The "Evangelion" team agreed with the purpose of the Twitter account and has continued to support the use of the name.
"After all, that's what NERV and Evangelion are for, to prevent a possible Third Impact." (From "Neon Genesis Evangelion" Episode 7).
Everyone involved in the production is delighted that such a line has been developed into a project that transcends the boundaries of the work and merges it with reality.
In recent years, disasters have become more severe and more frequent, and disaster management is an urgent issue for everyone.
We hope that this project, named after our works, will help as many people as possible.
Overview of the "NERV Disaster Response Vehicle"
Name
NERV Power Supply and Satellite Communications Vehicle 5LA-GG3W (Modified)
Body and Equipment
・ Mitsubishi Motors "Outlander PHEV"
・ Planar Satellite Antenna KYMETA u7
・ Satellite safety confirmation service "Q-ANPI" terminal
・ Automated External Defibrillator (AED) for both adults and children
Communications
・ SKY Perfect JSAT Satellite Communications Service
・ Quasi-Zenith Satellite System "Michibiki" Satellite Safety Confirmation Service
Commencement of Operation
Unit 01: 2020/2/1 Tokyo Area
Unit 02: 2020/2/1 Sapporo Area
Operations Manager
Gehirn Inc., Disaster Mgmt. & Prevention Division, R&D Dept.
・ Telecommunications Carrier Report A-23-12058
・ Licensing Authority (Earthquake Activities) No. 214
・ JMA Forecast Division Partner Company
・ L-Alert General Information Communicator
Services Offered
When the vehicle is dispatched to a disaster response headquarters or evacuation centre, the following services will be provided through the vehicle's power supply function and satellite link.
1. Power Supply and Charging Service
The Outlander PHEV's power supply function provides power for lighting, charging of computers and mobile devices, and power for cooking equipment such as rice cookers, microwave ovens and electric kettles.
2. Wi-Fi Internet Access Service
By providing Wi-Fi service via SKY Perfect JSAT's satellite internet connection, we provide internet access to smartphone owners. It enables communication for e-mail, messaging applications and disaster prevention applications.
3. Communication Service for safety and evacuation shelter information via the Michibiki satellite safety confirmation service
Apart from SKY Perfect JSAT's Internet connection, the status of evacuation centers can be communicated to disaster management agencies, etc. through communications using Michibiki. This service is mainly aimed at evacuees and administrators of evacuation centers.
1 The name and logo of "NERV" are used with the permission of Khara, Inc., the copyright holder of the "Evangelion" series, and Groundworks Corporation, which manages the rights to the series.
2 The Disaster and Crisis Management Reporting Service is a service that transmits disaster prevention-related information, such as the Japan Meteorological Agency's disaster prevention weather information, from Michibiki.
Attached Files
A separate document is attached to this press release. Refer to the following PDF for more information. (Japanese only)
■ Corporate Overview
URL: https://www.gehirn.co.jp/
Est. 2010/07, Gehirn is an IT and Security company that provides 'Gehirn Web Services' (an infrastructure service), Corporate Vulnerability Analysis, and Disaster Preparedness and Weather Information distribution services, all focused around our mission to 'Make Japan Safer'.
■ For other inquiries, please contact us
Gehirn Inc. (ゲヒルン株式会社)
Contact Form: https://www.gehirn.co.jp/en/contact/