"NERV Disaster Prevention App" now available for Android!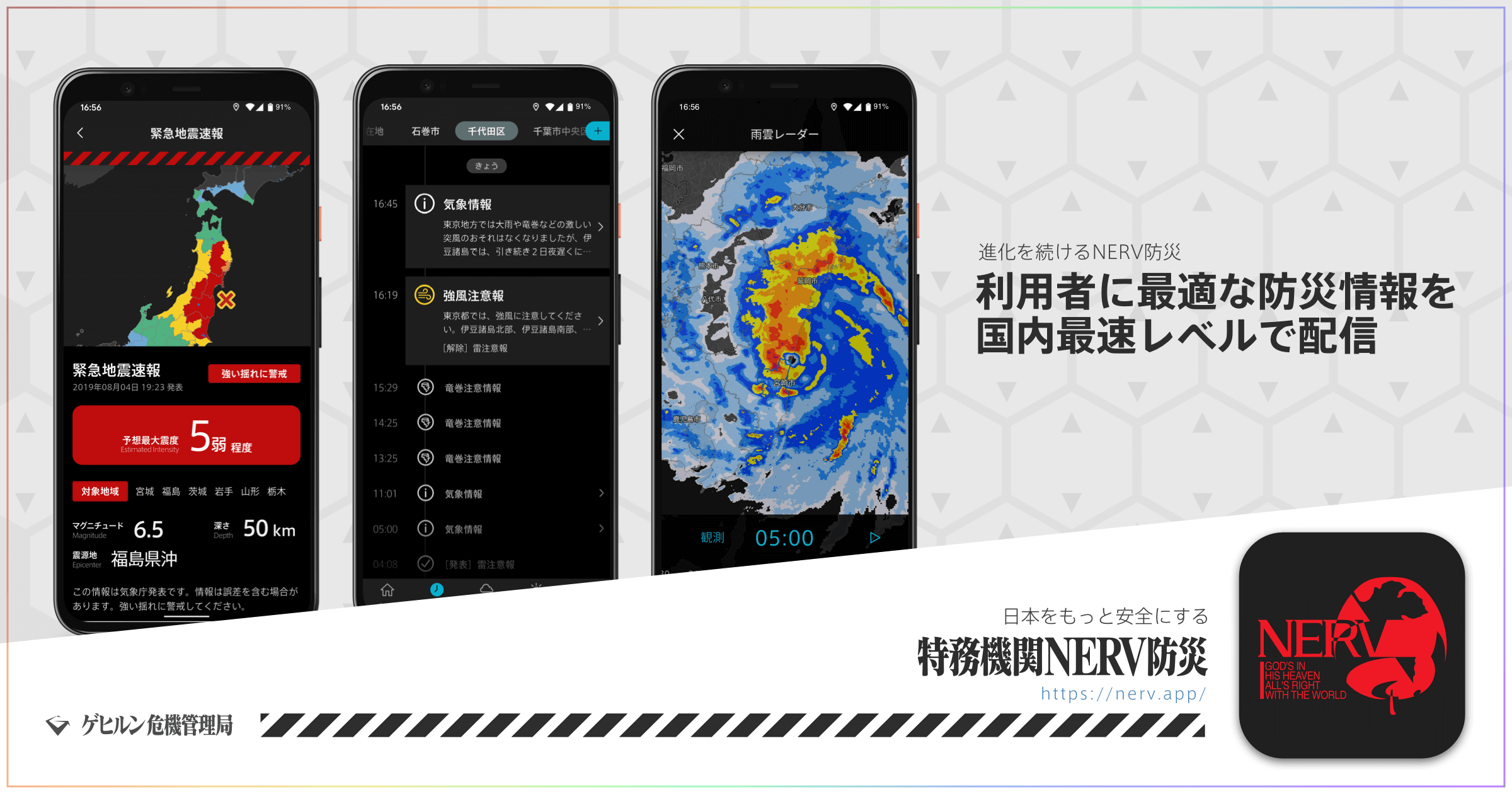 Please note that at this time, the NERV Disaster Prevention App is only available in Japanese, with an English release to be announced before the Tokyo 2020 Olympics.
Gehirn Inc. (Headquartered in Chiyoda-ku, Tokyo; CEO: Daiki Ishimori; hereinafter referred to as 'Gehirn') has, on the 18th of December 2019, officially launched "NERV Disaster Prevention App" for Android.
The "NERV Disaster Prevention App" is a smartphone service that delivers earthquake, tsunami, volcanic eruption and special warning bulletins, as well as weather information on floods and landslides, optimized based on both the user's current location and registered points. It has been developed to help people living in or visiting areas where damage is expected to occur to accurately assess the situation and react accordingly.
Disaster prevention meteorological information is received directly from a leased line connected to the Meteorological Service Support Center (located in the main building of the Japan Meteorological Agency and the Osaka Regional Meteorological Office) to ensure the reliability of the information, and our proprietary technology enables the fastest information distribution in Japan.
Working with the Japan Meteorological Agency to develop a heavy rainfall risk notification function
Following our selection by the Japan Meteorological Agency (JMA) as a cooperating service provider for the push notification service for the "distribution of the danger level of heavy rain and flood warnings", we developed the heavy rain danger level notification function of the "NERV Disaster Prevention App" in cooperation with the JMA. In addition, the development team includes members with diverse backgrounds, such as an engineer whose parents were affected by the Great East Japan Earthquake and Kumamoto Earthquake, a designer with disaster prevention qualifications, a designer living in Australia, and a developer skilled in geospatial information visualization.
The iOS version, which was first released on September 1st, has already been downloaded over 400,000 times and has received a great response. We will continue to work on the development of new features and support for more types of information.
Gehirn will continue to work to further strengthen the distribution of disaster prevention information.
Overview of the "NERV Disaster Prevention App"
Name
NERV Disaster Prevention App
(Japanese: 特務機関NERV防災アプリ)
Official Website
https://nerv.app/
Release Date
iOS: 2019/09/01 (Disaster Prevention Day)
Android: 2019/12/18
Price
Free
Supported OS'
iOS 12.1 (or newer)
Android 6.0 (or newer)
Developer
Gehirn Inc., Disaster Mgmt. & Prevention Division, R&D Dept.
・ Telecommunications Carrier Report A-23-12058
・ Licensing Authority (Earthquake Activities) No. 214
・ JMA Forecast Division Partner Company
・ L-Alert General Information Communicator
A variety of disaster prevention information in one place
You can receive a wide range of disaster prevention information in one app, including weather and typhoon forecasts, rain cloud radar, earthquake, tsunami and volcanic eruption bulletins, special warnings and landslide information, river information, heavy rain risk notifications, and even J-Alert (national protection information) and dam discharge notifications. By manipulating the map on the screen, you can zoom in on the point you are at or look across the country to see the rain clouds and the intensity of the earthquake in any scale.
1. Providing users with the most appropriate disaster information
We display information about your current location or a pre-registered area, based on our own algorithms. We use our own subdivision and mesh information to provide you with the most appropriate information.
2. Push notifications for important information
Depending on the device's location, the type of disaster information, and the level of urgency, we send quiet notifications without sound or vibration, normal notifications, and critical notifications. For urgent information, the "critical notification" alerts the user to the imminent danger. Critical notifications, such as Earthquake Early Warnings and Tsunami Warnings, are forced to sound even when the phone is set to silent or sleep mode.
※ If you do not want critical notifications (silent mode exempt), you can disable them from the settings screen.
3. Barrier-free design
The Japanese version uses the "AXIS" font, which is simple, stylish and highly visible. We also focused on accessibility, with a colour scheme that is easy to read for people with colour blindness, and audio readouts that are easy to understand for people with visual or reading disabilities.
■ Corporate Overview
URL: https://www.gehirn.co.jp/
Est. 2010/07, Gehirn is an IT and Security company that provides 'Gehirn Web Services' (an infrastructure service), Corporate Vulnerability Analysis, and Disaster Preparedness and Weather Information distribution services, all focused around our mission to 'Make Japan Safer'.
■ For other inquiries, please contact us
Gehirn Inc. (ゲヒルン株式会社)
Contact Form: https://www.gehirn.co.jp/en/contact/